Tekashi 6ix9ine's Alleged Snitch 'Uncovered' By Twitter Detectives
28 November 2018, 12:25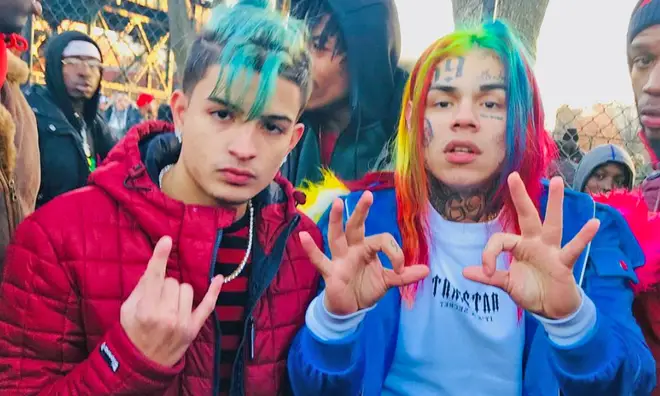 Tekashi 6ix9ine was arrested after a confidential informant infiltrated his team and recorded secret conversations with the 'Dummy Boy' rapper.
After Tekashi 6ix9ine was arrested recently and awaits a trial that could see him spend the rest of his life behind bars, it was revealed that a confidential police informant had helped to build charges against the rapper.
Following the police admission that the informant story was true, fans of the 'Gummo' rapper, whose album 'DUMMY BOY' leaked ahead of its release earlier this week, claimed to have uncovered the identity of the informant.
Taking to Twitter, 6ix9ine fans have been split after many accused his long-time friend and fellow rapper Skinnyfromthe9 of 'snitching' and being the police's confidential informant.
Skinnyfromthe9 was reportedly facing 30 years in prison earlier in 2018 after being hit with kidnapping charges, however he was released from prison fairly quickly afterwards and some fans are accusing the rapper of cutting a deal with the police to provide information on his 6ix9ine and others.
But following a flurry of accusations on social media, Skinnyfromthe9 has hit out at the claims denied that he had anything to do with Tekashi 6ix9ine's arrest.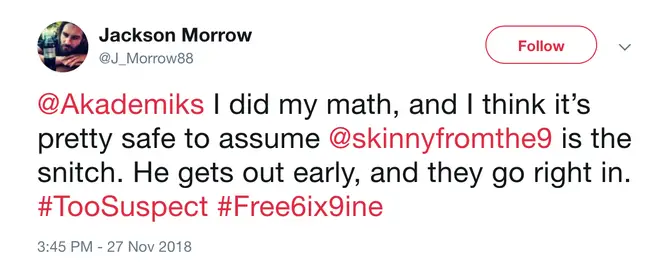 Taking to Instagram stories, Skinnyfromthe9 shared a picture of himself sticking up his middle finger alongside the caption 'Y'all mfs so stupid & don't know s**t'.
Skinnyfromthe9 also appeared to show his support for 6ix9ine after he retweeted a fan who tweeted, 'Hopefully @6ix9ine gets released just like @skinnyfromthe9 did #Free6ix9ine'.
Speaking to TMZ about the police informant, 6ix9ine's lawyer Lamce Lazzaro said, "Anytime there is a confidential informant, there is cause for concern. I am confident that any recorded conversations with [Tekashi] will prove that he was never a part of the enterprise and support the conclusion that he's innocent."
Skinnyfromthe9 has previously been accused of being a 'snitch' and has denied rumours many times before over the last few years, whilst a video reportedly showing the rapper sharing information with police whilst he was in school surfaced online.
Tekashi 6ix9ine's trial is set to begin on Wednesday 4th Sptember 2019 which means that he'll remain in prison for almost a year before he goes to trial. If found guilty, the 22-year-old could be sentenced toi spend the rest of his life in prison.
> Download Our Free App For All The Latest Tekashi 6ix9ine News!