YNW Melly Confirms New Mixtape 'Free M&M' And Sends Message To Fans In Jail Phone Call
1 May 2019, 10:22 | Updated: 1 May 2019, 10:33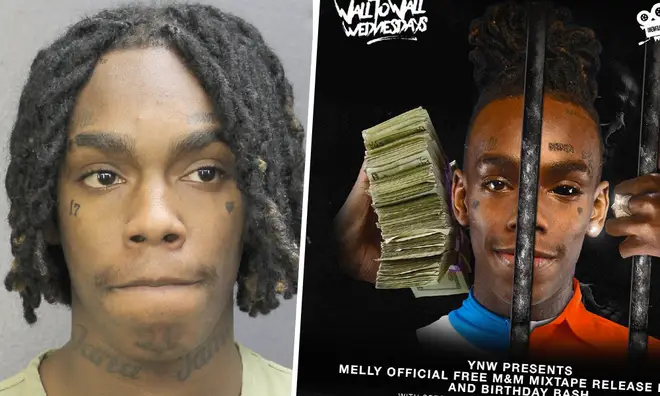 YNW Melly is currently in prison awaiting trial for the murder of his two friends with prosecutors reportedly seeking the death penalty for the 'Murder On My Mind' rapper.
Just weeks after YNW Melly was arrested for the alleged murder of his two friends, the rapper's hit song 'Murder On My Mind' went platinum - and now he's releasing a new mixtape from jail.
Called 'Free M&M', the mixtape looks set to feature a remix of YNW Melly's song '4 Real' with Lil Uzi Vert after a teaser of the song was posted on Melly's Instagram account.
'Free M&M' will be launched with a huge release party and birthday bash for YNW Melly and whilst he won't be able to attend to being locked up the rapper did send a message to his fans via a phone call from jail.
Speaking on the phone YNW Melly said, "I'm not gon' be there physically but I'm gon' be there officially. I need everybody to come show a n*gga some love man! Thank y'all to all my fans and supporters! I love y'all!"
No tracklist or official release date has been revealed for YNW Melly's new mixtape 'Free M&M' just yet, but with the teaser clip above and release party taking place on Wednesday 1st May 2019 we'd expect it to be very soon.
YNW Melly has already worked with the likes of Kanye West on previous releases but his lawyer recently revealed fears that the lyrics from his bioggest song 'Mirder On My Mind' may be used against him in court.
Whilst he's been in jail awaiting trial YNW Melly's dad released a tribute song to his son titled 'Melly On My Mind' and shared a number of throwback photos of the rapper in the music video.
> Download Our Free App For All The Latest Music News!