YNW Melly's Mother Accused Of 'Clout-Chasing' After Posting Emotional On-Camera Breakdown
25 April 2019, 13:16 | Updated: 26 April 2019, 11:08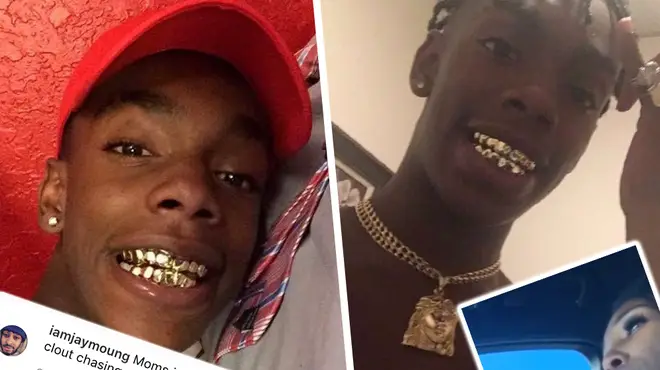 YNW Melly's mother has received backlash for her Instagram Live where she has an emotional break down. She has been accused of 'clout chasing'...
YNW Melly's mother Jamie Demons-King has taken to Instagram Live to show how she is feeling since finding out that her 19 year-old son is potentially facing the death penalty. The "Mixed Personalities" rapper has been accused of plotting and executing the murder of two of his friends and setting it up to look like a drive-by shooting.
Demons-King is going through a lot right now, and posting the Instagram Live of herself breaking down to YNW Melly's song, just brought more drama to the table.
YNW Melly's mother took to Instagram Live while sitting in a car. Demons-King didn't say a word and just quietly sobbed while playing her son's song "Waiting On You" and stared off into the distance. Her facial expressions and body gestures allure to how upset she is, breathing irregularly and slightly shaking.
However, she received severe backlash for posting herself being upset on Instagram Live. Social media personality DJ Akademiks shared the clip of the Instagram Live and social media users slammed the mother of YNW Melly. Even a popular HipHop site wrote, "Listen Mom. Ya son ain't right."
A social media user who reached the posts top comments, posted "Moms is even clout chasing now????" underneath DJ Akademiks repost of the video.
Another top commenter posted "Shouldn't of killed his buddies". Both comments received many likes with people in agreeing.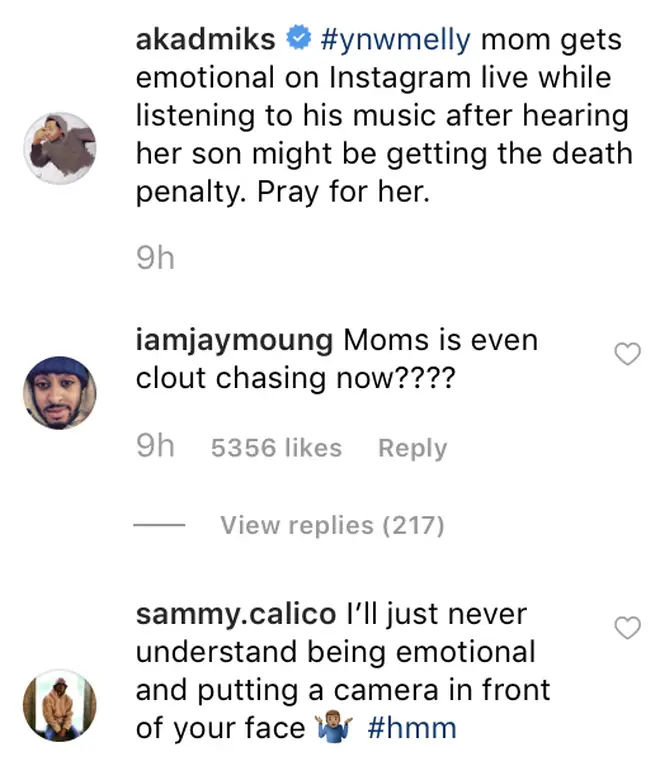 Multiple people even commented to say that she was the reason YNW Kelly ended up in the situation he is in because she 'didn't raise him right'.
However, there were a few people who fought against people dissing the mother, saying how she didn't necessarily clout chase and people do 'strange' after finding out terrible news.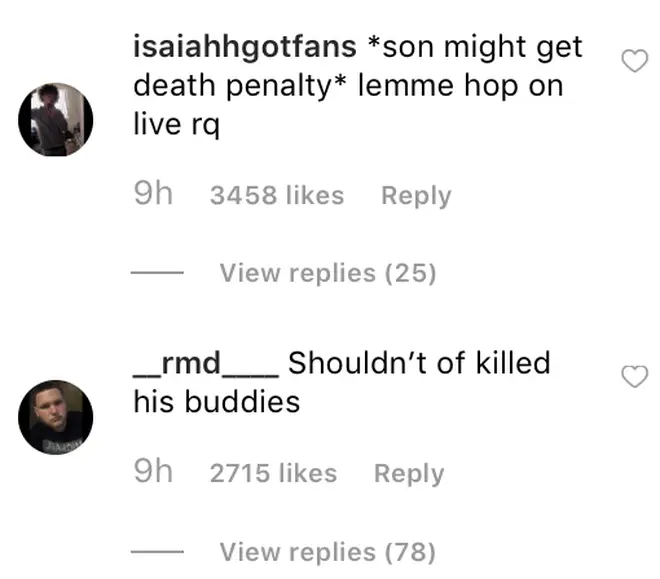 Some commenters also stood in the mother's defence saying it is okay to be upset over her son potentially dying, despite the 'sins' he may carried out.
A Instagram user posted "She did it on live to try and maybe help the situation because no mother wants their son to die. Regardless of the circumstances, you can't be mad at her for trying" in the comment section.
>
>
>