Who is Bobbi Althoff? Age, Net Worth, Husband, Instagram, Connection to Drake & More Revealed
17 August 2023, 15:25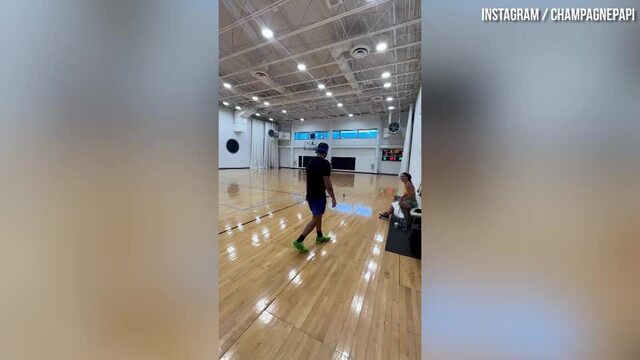 Drake shows off basketball skills
Here's everything we know about podcaster and influencer Bobbi Althoff.
Viral influencer and podcast host Bobbi Althoff seemed to come out of nowhere, and has made a name for herself interviewing the likes of Drake and Lil Yachty in an unconventional, deadpan style.
The 26-year-old started out by making content based on motherhood, and has recently shot to fame after she began her podcast The Really Good Podcast.
So, who is Bobbi Althoff? How did she get famous? How does she know Drake? Here's all we know about the influencer and podcaster.
Who is Bobbi Althoff?

Bobbi Althoff started posting on TikTok in 2021, and posted mostly parent-centred content when she was pregnant with her second child.

Not much is known about her upbringing and personal life, and has confirmed to Cosmopolitan that she is not and industry plant.

"I am not," she told the Publication. "I think that's the funniest thing and it's really fun to lean into."

Bobbi started her podcast this year and has interviewed people including Drake. Picture: Getty

How old is Bobbi Althoff?

Bobbi is currently 26-years old. Her birthday is July 31, 1997, which makes her astrological sign a Leo.

She was also reportedly born in California in the United States.

She told Cosmo that her Dad was a handyman, and "could not be further from someone with connections and with money."

Bobbi is 26.

Picture: Instagram

Is Bobbi Althoff in a relationship? Does she have any children?

Bobbi is married to husband Cory Althoff, and according to his Linkedin, he is a senior programmer.

Cory has made one appearance in Bobbi's TikTok videos, promoting Bounty kitchen towels.

She has two daughters with Cory, who she refers to as Concrete and Richard in an effort to keep their identities private.

Bobbi with her husband Cory.

Picture: Instagram

She jokingly said that she named her child Concrete, Althoff responded with a video to a comment in November 2022 of someone critiquing her name choice.

"I don't see anything wrong with the name Concrete," she said. "It is a pretty common word so I don't understand why it would not make a good name. My daughter is going to be a very strong woman with a very strong name for her."

She continued, "I grew up in the construction business and I just always wanted my daughter to have some ties to myself so yes her name is Concrete Sawdust Althoff so I encourage you guys to think outside the box when naming your children because the future will be a better place if we stop caring about what we name our littles."

What is the connection between Bobbi Althoff and Drake?

Bobbi managed to get Drake on her podcast by Dming the rapper after completing a couple of episodes.

"I DMed Drake and asked if he wanted to be on my podcast, and he said yes."

"He sent me his touring schedule, and I knew that I needed to make it happen fast, so my friend and I flew to Memphis two days after the original DM was sent to record the episode."

She interviewed Drake in July 2023.

Picture: YouTube

Did Bobbi Althoff cheat on her husband with Drake?

Despite rumours swirling around Drizzy and Bobbi potentially hooking up, the podcaster has set the record straight.

The BFFs Podcast show posted a clip to their TikTok which seemed to suggest Althoff had confirmed the rumours of infidelity to host Dave Portnoy.

In the clip, the team had censored Bobbi's reply to whether or not she'd slept with Drake – creating a seemingly suggestive edit.

Bobbi at a recent Drake concert. .

Picture: Instagram

Portnoy had asked Althoff and she'd replied: "That is not true."

When this original, censored TikTok was posted, Althoff shared an Instagram story with an uncensored screenshot of the actual conversation.

What is Bobbi Althoff's Net Worth?

Although nothing is confirmed regarding her net worth, she is estimated to be worth between $400,000 and $500,000.