Here's What Vic Mensa Said During His XXXTentacion Diss At The BET Awards
17 October 2018, 16:16 | Updated: 17 October 2018, 16:38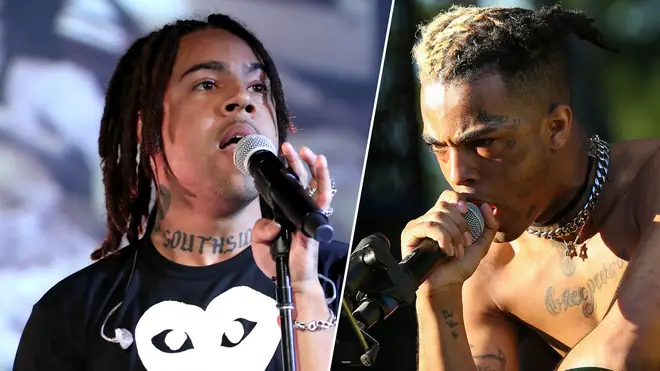 The Chicago rapper received major backlash after lyrics from his BET cypher were leaked online, and appeared to fire shots at the late XXXTentacion for his previous charges of domestic abuse.
Earlier this month, Vic Mensa received a huge deal of backlash for his cypher at the BET Awards, which reportedly fired shots at the late rapper XXXTentacion.
The pre-recorded cypher saw the Chicago native criticise rappers who have been found guilty of abuse. During the ceremony, the mother of XXXTentacion was in the audience, as she was receiving a posthumous award for her son.
Mensa stood by his statement in a public video response on Instagram, but offered XXX's grieving mother his "deepest condolences" for the loss of her son, adding that he didn't know she would be in the audience.
The cypher footage was aired last night during the television airing of the awards, but the part of Mensa's cypher that mentioned XXX - who was shot and killed in Florida earlier this year - was censored.
"Only time you bear arms is in a wife beater, loser. Your favorite rapper is a domestic abuser. Name a single Vic Mensa song, XXX we all know you won't live that long. I don't respect ni**as posthumously, homicide ain't new to me, catch up with Akademiks at your eulogy."
Here's the Vic Mensa XXXTentacion Diss. BET decided to bleep it out so no one would get upset but it wasn't bleeped out when X's mom and family was in attendance during the filming of the awards pic.twitter.com/gNwuNkSNz1

— B The Biz (@BrodyTheBiz) October 17, 2018
The cypher also features G Herbo, Taylor Bennett and Nick Grant, although the original clip appears to have been removed from the BET Awards' official website.
Back in August, the mother of XXXTentacion, Cleopatra, revealed the gender of the late rapper's unborn child, which is expected to arrive later in the year.