Lil Pump Goes Instagram Official With "New Girlfriend" Paris Hilton
5 April 2019, 16:03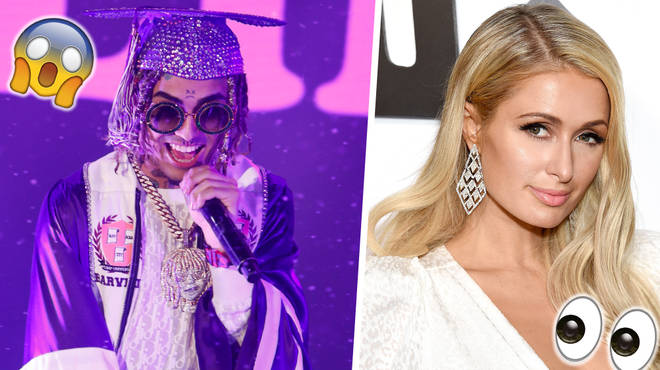 Lil Pump introduces Paris Hilton as his "new girlfriend" on his Instagram post, along with an adorable photo of the couple...
Lil Pump is back on Instagram and looking happy as ever, after the series of sad Instagram stories, where he revealed that he feels like he is going to die soon. The Florida native returned to the gram with a photo of him similing and in good spirits.
In the photo, he isn't pictured by himself. He is hugging who he calls his "new girlfriend", which turns out to be Paris Hilton. Lil Pump is a fan of trolling on the internet, so who knows what he means by introducing Paris Hilton to the world as his new girlfriend.
The Florida native is known for his juicy pranks and savage trolling on countless occasions. One to name, is when the rapper filmed himself urinating on stacks of cash.
Another 'trolling the internet' Lil Pump performed was when he staged a beef with his best friend Smokepurpp.
The rapper retuned to Instagram for his latest stunt. The "Gucci Gang" rapper posed in the club with Paris Hilton and DJ Marshmello. In the photo, Lil Pump can be seen well acquainted and hugging on Hilton. The caption underneath the photo reads "My new girlfriend "  introducing the world to his "new girlfriend".
Paris Hilton was once the world's most popular socialite, being seen at every event and clubbing with friends. Kim Kardashian stole Paris Hilton's light and took over being one of the most popular women in popular culture.
Considering Kim Kardashian used to be Paris's friend that got neglected from the media and someone nobody focussed on, she has blown up to be one of the biggest internet sensations.
Paris Hilton clearly still parties as she's seen having the best time out with Lil Pump on his social profile. Pump wore a fishnet top, with his huge pendant chain drooping over his chest.
Fans are speculating whether Pump is being genuine or whether it's another episode of trolling on the internet.