Kylie Jenner & Travis Scott Finally Respond To The 'Kardashian Curse' Conspiracy
17 July 2018, 15:40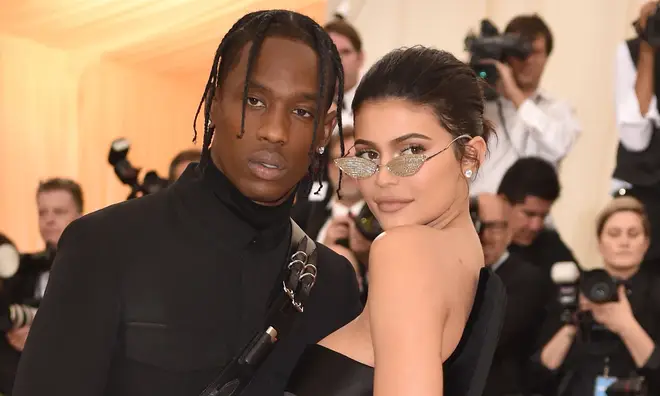 The famous couple address the ongoing rumour.
Kylie Jenner and Travis Scott have addressed the ongoing rumour surrounding the supposed 'Kardashian Curse'.
During their cover story with GQ, the power couple responded to the concept that all men who become romantically involved with a member of the Kardashian-Jenner family end up burning out.
"I don't even be looking at motherf***ers. I don't be looking at s**t. Kylie actually likes me for me," Scott said of falling victim to the alleged curse. "I'm on my own island. So hey, come over there to Astroworld. I'm not into all the other s**t. I don't get involved. I'm over here. Kylie is different."
Elsewhere, Kylie argued that the difficulty with introducing men into a family of such notoriety is the lack of experience many of them have in dealing with the limelight.
"That's exactly what it is. They come and can't handle it," she states. The social media starlet, who was recently tipped to become the world's youngest self-made billionaire, revealed how she makes sure her other half doesn't burn out.
"Well, for all the news stories, it's how I get over them so fast. Trav, for example, he's like, 'Wait...but how do you just get over this?' He gets more angry about things. It's not just him," she said.
"It's Jordyn [Kylie's best friend] who I've seen affected. It's everyone around us that aren't used to it. And we're just like, "Oh, that'll go away in a day." I know these stories aren't going to matter, so don't even let them affect you, you know?"
She added, "I think you're correct. But it's not just men—it's friends, it's people who come and just don't know how to handle it. It's the negative. There's a lot of people who love us, but there's also a huge handful of people who don't like us."
The couple also opened up about how they started dating. After initially meeting and clicking instantly at Coachella, the pair met a second time - which resulted in Kylie joining the rapper on tour.
"Coachella was one of the stops on his tour," she explains. "So he said, 'I'm going back on tour—what do we want to do about this?' Because we obviously liked each other."
"And I was like, 'I guess I'm going with you,'" she said. "I don't really answer to anybody. I live on my own, and so I just rode off into the sunset. We had a lot of downtime. It was organic,"
"And we would just go to these random cities. We got to not be who we really were. Like, if we were in L.A., I feel like it would've been way different. Everything happened for a reason. We weren't going out as "Kylie and Trav." We would just be in Cleveland, walking the street for hours. We would go on walks, and no one would bother us."
The pair have been dating for around a year, with the 20-year-old beauty entrepreneur giving birth to the couple's daughter, Stormi, back in February.
While Kylie continues to expand her Kylie Cosmetics empire, Travis gears up for the impending release of his upcoming album, 'Astroworld'. You can read the full GQ interview here.