Kourtney Kardashian kids: how old are they & what are their names?
26 June 2023, 12:14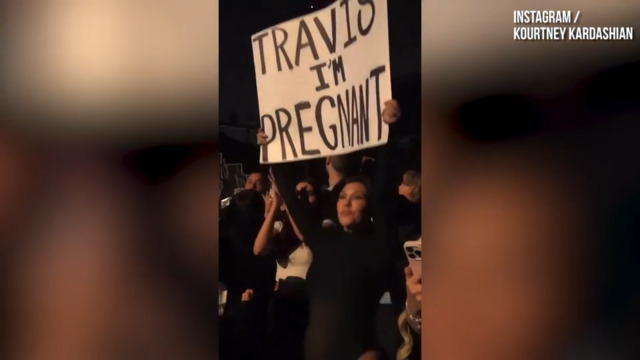 Kourtney Kardashian tells Travis she's pregnant at his concert
Ahead of the birth of Kourtney's fourth child, get to know everything about the Kardashian's children.
Kourtney Kardashian has three children and is currently expecting her fourth! The 44-year-old is currently pregnant with her husband Travis Barker after marrying in May 2022.
In June 2023, she announced her pregnancy at a Blink-182 concert in Los Angeles, and held up a sign inspired by the band's music video for 'All The Small Things'.
So, how many children does Kourtney have? How old are they and who are their dads?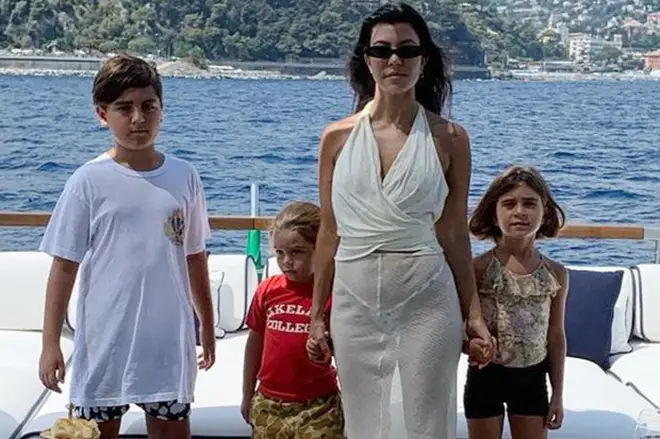 Mason Disick

The oldest out of all the Kourtney's children is Mason Dash Disick. Mason was born on 14th December 2009, making him 13 years old.

He appeared regularly on the earlier seasons of Keeping Up With The Kardashians, but has since stayed out of the spotlight as he reaches his teenage years.

Mason was born in KUWTK's season four finale to Kourtney and her longtime boyfriend Scott Disick.

Mason, who tends to stay out of the spotlight, pictured with his dad Scott.

Picture: Instagram

Penelope Disick

Middle child and only daughter Penelope was born on July 8th 2012, making her currently ten years old.

Her middle name is Scotland and her dad is Kourt's ex Scott Disick. She is the niece of Kim and Khloe Kardashian, Kourtney's sisters.

Penelope sometimes goes by the nickname 'P' and is close to her cousins in the Kardashian-Jenner clan.

Penelope and her mother Kourtney Kardashian.

Picture: Getty Images

Reign Disick

Reign Ashton Disick is the youngest of the Disick siblings, and was coincidentally born on the same day as brother Mason, just five years later.

Unlike his older siblings, Reign was not born on camera and Kourtney released the first look at him four months after his birth.

Reign is a frequent member of The Kardashians crew, and is known for his quips and one-liners unexpected from an eight-year-old.

Reign pictured with mum Kourtney.

Picture: Instagram

Baby Boy Barker

Baby Barker is on the way!

Kourtney announced her pregnancy in June 2023 by holding up a sign which read: "Travis, I'm Pregnant" at the Los Angeles date of Blink-182's tour.

Upon the announcement, Kardashian said: "Overwhelmed with gratitude and joy for God's blessing and plan."

The due date is currently known.

Kourtney announced the pregnancy at a Blink-182 show.

Picture: Instagram

Kourtney and Travis are having a baby boy!

A small sign placed on top of the will call table read, 'Guestlist: Baby Boy Parker (blue wristband) and Baby Girl Parker (pink wristband)'.

The sign which welcomed guests into the room read: "Baby Parker World Tour with Special Guest Kravis."

Kourtney treated fans to a BTS look at her gender reveal party.

Picture: Instagram

The couple then revealed their baby's gender by playing a drum roll with blue streamers erupting to reveal that they were having a boy.

They had a sweet area full of disposable cameras and notecards for guests to take pictures of the party.

Sisters Kim and Khloe and mum Kris publicly congratulated Kourt with Kris uploading a video of the gender reveal with the caption: "I can't wait to meet this beautiful new grandchild!! What a blessing!!!!!! #luckynumber13!!!!! Congratulations Travis and Kourt!!"