Kodak Black Savagely Takes Shots At T.I's Wife Tiny Harris On New Diss Track
16 April 2019, 15:00 | Updated: 17 April 2019, 09:11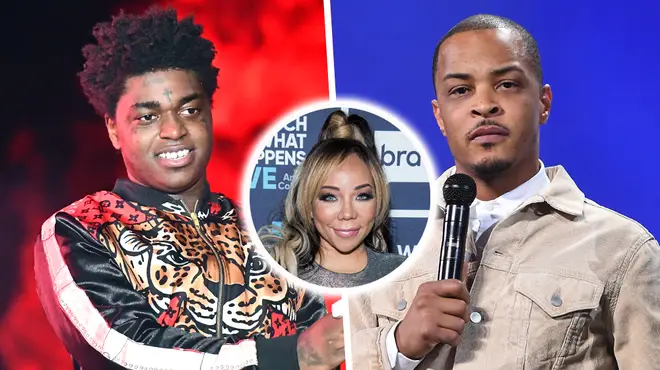 Kodak Black retaliates after T.I seemingly disses him in a new song. The Floridian rapper has hit T.I back with a diss track, which not only does he address him, but also takes shots at his wife Tiny Harris...
Since Kodak Black made a move on Lauren London shortly after her boyfriend Nipsey Hussle passed away, many of Nip's peers have taken to social media to address Kodak's insensitive and disrespectful comments.
In particular, T.I, who was heavily inspired by Nipsey and a close friend to him, spoke out on social media against Kodak and even made a diss track.
Now, Kodak has hit T.I back with a savage response, not just about him though. He disses T.I's wife Tameka 'Tiny' Harris while he's at it.
On Monday, the Pompano Beach-bred rapper dropped a full diss track aimed Tip titled "Expeditiously", the word T.I used to explain Kodak's behaviour. Throughout the song, he rips into Tip and his wife Tiny Harris.
The Floridian rapper has officially released the song titled "Expeditiously" on his YouTube channel. The 3 minute track consists of multiple disses to T.I and tears into the rap legend's wife's looks.
In the track, Kodak gets severely disrespectful towards the singer and wife of T.I, Tiny Harris. The lyrics read:
"How you tell me what came out my mouth, you don't even know Nipsey/Tiny that bitch ugly as hell, I don't even want Piggy," he spits.
The "Zeze" rapper continues:
"I can't beat you niggas at talkin' give me a long sentence/You know I keep the pole and I ain't no hoe, I know some Rollin 60s/And I'm thuggin' all on my lonely, but I keep some Zoes with me."
In the song, Kodak also seems to fire a shot at The Game who addressed him angrily via Instagram Live after finding out that Kodak shot his shot at Lauren London. The Game has been has emotionally distraught since the passing of Nipsey Hussle, as his friend of 12 years passed away.
Kodak Black - Expeditiously
Kodak seemingly takes a shot at The Game rapping the lyrics:
"On the news he TIP me, that boy got no feelings/Suwoop put the pole on lil' buddy, they said the Game strippin'/Old heads ain't hittin' on nun, I say them boys kiddin'/I want all the smoke out the stove but I don't even roll Phillies/How the hell you callin' me out when you know I don't listen," he spits.
The beef came when T.I. addressed Kodak on Instagram, removed his art installation from his Trap Music Museum but also teased a diss track of his own.
In T.I;s diss track he spits the lyrics:
"I'm conditioned to see the vision, you/ I don't care if you eight or under twenty-two/ All that back and forth, what you trying to get into?/ I said what I said and I meant it to," Tip rapped.
Once Kodak caught wind of it, he insulted Tip's family on social media during an expletive Instagram Live rant. "You n***as scared-er than a b*tch," said the Florida artist. "What are you making songs for? Trying to get in the game, n***a, take your ass out of the game."
He continued: "You should've made one of your f****t ass little sons write a rap"
Tiny Harris has kept it classy and continues to post the positive moves she's making on her social media account.
>
>
>