T.I Appears To Clap Back At Kodak Black In New Song Following Lauren London Comments
15 April 2019, 14:47 | Updated: 17 April 2019, 09:11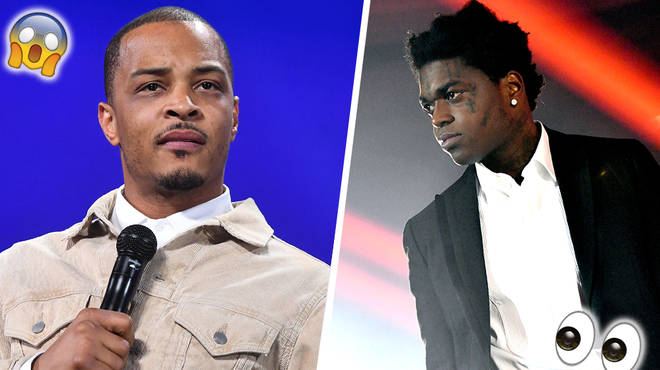 T.I seemingly addresses Kodak Black in his new song, after their recent back and forth beef, which started over Kodak's inappropriate comments towards Lauren London...
T.I. and Kodak Black have been going at each other on social media for the past week. The beef initially started when Kodak Black went on Instagram live and made inappropriate addressing Lauren London. Kodak said he will give her a year to grieve from boyfriend Nipsey Hussle's death, before shooting his shot.
The Floridian rapper semi-apologised for his comments but T.I. was still infuriated by Kodak making such disrespectful comments at such a sensitive time. Now, it looks like T.I.'s gone to the booth to address his feud with the Florida rapper.
The ATL rapper took to Instagram Live to give his fans a little snippet of a new song he has been working on. During the track, the rapper seemingly addresses his feud with Kodak Black.
Fans have pointed out that the lyrics are relatable to his recent beef with the "Zeze" rapper.
"I'm conditioned to see the vision, you/ I don't care if you eight or under twenty-two/ All that back and forth, what you trying to get into?/ I said what I said and I meant it to," he raps on the track. He continues to rap "[...] N**ga took it too far, better slow down/Your belief becomes your thoughts, then your thoughts become your word."
Fans are speculating that T.I is referencing the back and forth beef with Kodak, with him being a young guy, and confirming he meant what he said to Kodak.
T.I revealed that Kodak's comments towards Lauren London triggered him, then Kodak responding saying he's only made because he wants "first dibs" on Lauren London, he got even more irritated.
T.I told TMZ "that's all his brain capacity could come up with" regarding Kodak's comments to him on Lauren London.
Tip continued: "I urge him to go educate himself, enlighten himself. If he knew better, he'd do better. I'm going to continue to pray for wisdom and enlightenment, I just hope he fix it before it fix him."
The ATL rapper deeper explained how he believes things should happen, stating: "I don't wish no pain on him. But ultimately, the laws of reciprocity are in order at all times. You get what you give. The energy he putting out there, it gon' come find him."
Fans are wondering when the beef is going to end, but who knows when you're beefing with Kodak Black....We'll see.
>
>
>