Khloe Kardashian Praises Jordyn Woods In Awkward Video Filmed Before Cheating Scandal - WATCH
9 May 2019, 13:14
Just months before her then-boyfriend Tristan Thompson reportedly cheated on her with Jordyn Woods, Khloe toasted to Kylie's BFF at the launch of their new makeup collection.
It's been three months since Khloe Kardashian's then-boyfriend Tristan Thompson was accused of hooking up with Jordyn Woods, Kylie Jenner's BFF.
And while it's pretty clear by Jordyn's sudden lack of appearance on the Kardashian-Jenner's social media pages that she's no longer affiliated with the family, a new video reminds us of how quickly that changed.
In a new clip from an upcoming episode of 'Keeping Up With The Kardashians', Khloe raises a toast to Jordyn at the launch party of her joint makeup collection with Kylie, which debuted last year.
"I did want to say I'm so proud of both Kylie and Jordyn," Khloe begins her toast. "Kylie, I know how hard you have worked on your company and everything and you're so generous to share that with me and Kourtney and Jordyn."
She continues, "It's such a blessing because you don't have to share your blessings with us, but you kind of do." Khloe then turns her attention to Jordyn, gushing about being "so proud" of the woman she'd become.
"And Jordyn, for you to be turning 21, I've known you forever and I'm so proud of you and the woman that you have grown into and that you're growing into.
"To see you guys stick together and be best friends through thick and thin, it's such a blessing. Congratulations on everything and this will be a huge success."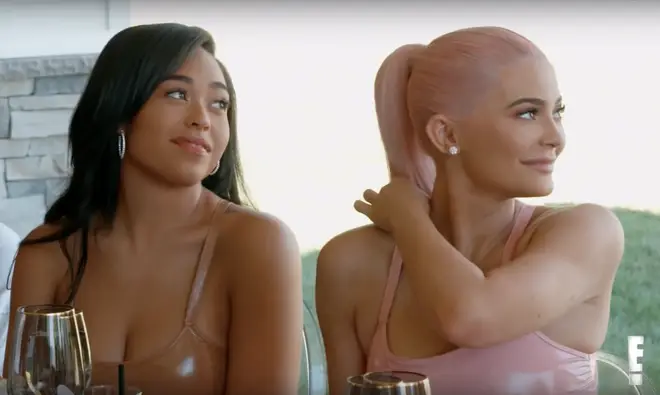 So yeah, pretty awkward.
After the initial cheating reports surfaced, Jordyn appeared on close family friend Jada Pinkett-Smith's talk show 'Red Table Talk' and claimed that while Thompson did kiss her, they didn't engage in anything more.
During a panel at Nigeria's Homecoming Festival last month, Woods addressed the criticism she faced following the scandal, and how it affected her and her family.
"My little sister was bullied in school and I wanted to show her that I was bullied by the world," Woods said. "I understood for the first time what it's like being a black woman — in a just society, how we can be so disrespected and nobody can really understand to that extent until you have to live it."