Drake Brings Out Chris Brown During LA Tour Date & Fans Can't Believe It
13 October 2018, 15:03 | Updated: 13 October 2018, 15:20
Drake and Chris Brown are no longer enemies! The pair shared the stage in Los Angeles on The Aubrey & The Three Migos tour.
Drake and Chris Brown publicly ended their long-running feud last night in LA.
The OVO rapper surprised fans around the world when he invited out his arch-rival Chris Brown on stage to perform songs including 'Party' and 'Freaky Friday'.
"This is something I've waited a long time for," began Drake.
"I've got the upmost respect. I think this guy is one of the most talented human beings on the planet.
"I never really got my chance to show it. So I figured tonight in Staples Centre with each and everyone of y'all would be the perfect time to share this moment.
"I'd like to share the stage with this man in LA! I hope you mother*cking enjoy it," said Drake, before Chris Brown rose up from under the stage on a platform.
Watch the footage above.
According to fan reports, Drake then told the crowd that he wants to make more music with Chris Brown soon as it has been long overdue.
Drake and Chris Brown last collaborated in 2011 on the remix of Breezy's hit single 'Deuces' alongside Kanye West and Andre 3000.
However the pair haven't shared the same stage in over 9 years.
Following their public reconciliation, Drake celebrated the moment on Instagram.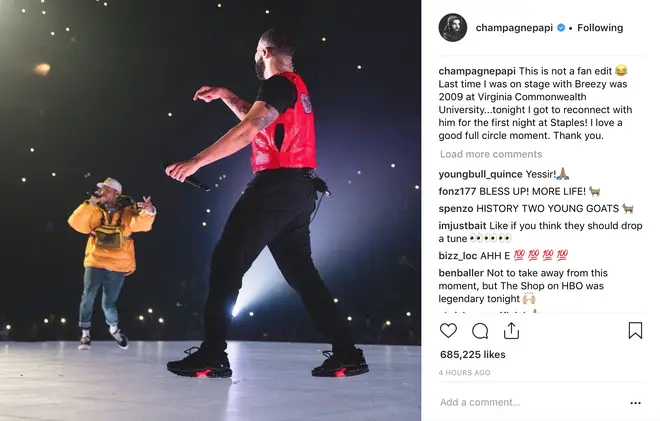 "This is not a fan edit," wrote Drake.
"Last time I was on stage with Breezy was 2009 at Virginia Commonwealth University..."
"Tonight I got to reconnect with him for the first night at Staples! I love a good full circle moment. Thank you."
While Chris Brown wrote: "Double Dragons".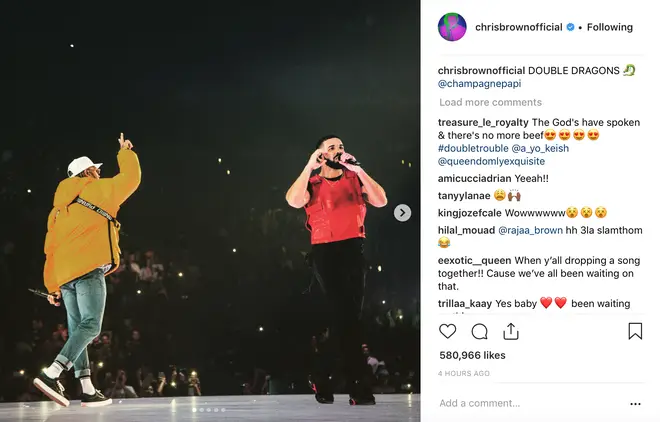 Tensions between Drake and Chris Brown, which were sparked over Rihanna, appeared to ease over the past few months.
Both artists began following each other on Instagram again, which some fans took as a sign that they were willing to end their feud.
Earlier this year Chris Brown also praised Drake for his latest album 'Scorpion'.
This is the second high-profile feud that Drake has ended in recent months, after he publicly squashed his beef with Meek Mill on stage in Boston.
Meanwhile, Drake has also finally revealed the truth behind his heated feud with Kanye West, following months of disses from both parties.