Drake Finally Addresses The Reasons Behind His Feud With Kanye West
13 October 2018, 10:26 | Updated: 13 October 2018, 10:44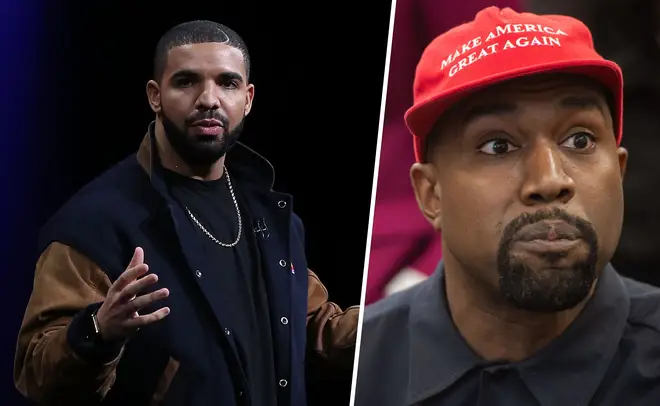 In a new interview with LeBron James, Drake opened up his ongoing beef with Kanye West.
Tensions between Drake, Kanye West, and Pusha T have been simmering since earlier this year, when Pusha released a diss record, "The Story of Adidon", aimed at the Toronto rapper.
The details of the feud have been somewhat hazy up until this point. But, on Friday night, Drake appeared on an episode of LeBron James' HBO show, The Shop, and shed some light on the situation with Kanye West.
"I ended up linking with Ye' and he sold me on this whole speech of, like, 'I'm in a great place, I'm making money, and I'm a father and I want to be Quincy Jones and help you. But in order to do that, you gotta be transparent with me, and you gotta play me your music, and you gotta tell me when you're dropping. And I know you don't like to do things like that.' And so, you know, I was in the studio. I guess we all kind of felt a genuine vibe from it," Drake explained.
Drake, at the time, was working on Scorpion but had announced very few details about the project.
Drake says he played Kanye his new music and told him when he planned to drop Scorpion. Kanye then invited Drake to Wyoming, where it became clear that Kanye was also working on an album.
Drake apparently opened up to the Chicago rapper on the trip. "I'm in Wyoming, I play him March 14, I send him a picture of my son. I tell him I'm having trouble with my son's mother. We had a conversation," he revealed.
According to Drake, soon after Wyoming, the dates around Kanye's various projects started to come out and they were all close to Scorpion's planned release date.
Of course, the situation is well documented from there. Pusha's diss record came out with details of Drake's son included, sparking a short but bitter back and forth.
In the end, Drake says he chose not to further the back and forth with Pusha T for one simple reason. "I wanted to do other things. I didn't want to further your reputation or your career by rapping back with you and having this exchange."
Drake also revealed that "In My Feelings", "Nonstop", and "Mob Ties" were added to Scorpion after the entire situation.