George Floyd death anniversary: Things that have and haven't changed since his passing
25 May 2021, 13:48 | Updated: 25 May 2021, 13:51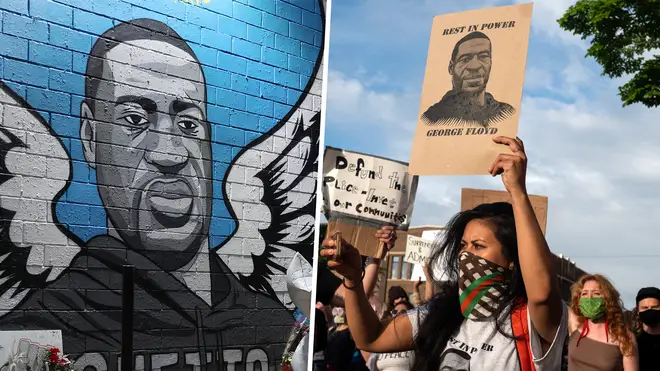 It has been a year since George Floyd was killed in police custody in the US, a tragic incident which sparked a worldwide movement.
Today marks the one-year anniversary of George Floyd's murder. The world mourned the heart-wrenching loss of George's life, and saw an uprising of people fighting for justice. The fight for equality and anti-racism continues.
Mr Floyd was an unarmed 46-year-old black man, who died on May 25th 2020 in Minneapolis, Minnesota, United States.
He was arrested by police officer Derek Chauvin over a counterfeit $20 bill. During the arrest, Chauvin – a white police officer – knelt on Floyd's neck after he was handcuffed and lying face down.
The death of George Floyd led to social and political debates about racism and inequality, which further reignited the Black Lives Matter movement on a large scale.
The world participated in protests, events, marches, social media activism and more, calling for changes to policing, education, culture and economic structures.
But, the question still stands....'What has actually changed since George Floyd's death?'
Here's a list of things that have and have not changed since Floyd's murder.
Policing

President Joe Biden has called for Congress to pass a police reform bill by the May 25th anniversary of the killing of George Floyd by Minneapolis Police officer Derek Chauvin. Lawmakers are still discussing key provisions in the bill. Picture: Getty

In the US

Since George Floyd's death, people have been finding different ways to advocate for change to tackle police brutality and racism.

President Biden said: "My fellow Americans, we have to come together to rebuild the trust between law enforcement and the people they serve and root out systemic racism in our criminal justice system and enact police reform in George Floyd's name."

Some activists have for the police to be "defunded" - meaning money will be taken from police forces and given to other organisations.

In Minneapolis, where George Floyd was murdered, the city council had voted to defund the police but the mayor did not replace the police department, which many campaigners called for.

In another US city, Atlanta, where police had killed another unarmed black man in 2020, the city's mayor limited police's use of force, but the police have not been defunded.

In New York City, the mayor cut a significant amount of dollars from the police and said the money will be invested into youth and social services.

In the UK

In the UK, campaigners have fought for changes to be made to the policing system; highlighting the proportion of black people who die in police custody and flaws in the "stop and search" bill.

Ethnic minorities are disproportionately targeted for being stopped for a crime by police.

According to government figures, for 1,000 white people in England and Wales, there are six stop and searches per year. For 1,000 black people, the figure is 54 stop and searches per year.

The government aims to change this by building better relationships with ethnic minority communities and hiring more officers from diverse backgrounds.

Prime Minister Boris Johnson has said: "There are very serious issues that our society faces to do with racism that we need to address, we've got to do more to fix it."

Confederate statue and streets removed

The statue of slave trader Edward Colston is retrieved from Bristol Harbour by a salvage team on June 11, 2020 in Bristol, England. Picture: Getty

Slavery ended after the American Civil War, when the Confederate Army, the side fighting to keep Black slaves, lost to the United States military.

However, there have been statues of slave owners and Confederate soldiers that have stayed up around the US & UK until this present day.

In 2020, we saw some of the statues being torn down by protesters and authorities.

Some schools and streets named after Confederate leaders were also renamed.

In Washington DC, there is a Black Lives Matter Plaza which was renamed by Mayor Muriel Bowser on 5 June, 2020.

There is also several Black Lives Matter mural around New York and London, aswell as other US & UK cities.

Education

Campaigners have fought for children to learn about black history in school.

Picture: Getty

People have advocated for schools to be made more diverse and support children from poverty induced areas.

Campaigners have also called for history lessons to reflect Britain's multicultural society, so that children learn about black, Asian and minority ethnic groups at the same level they do with white people.

Some BLM charities and organisations believe it is essential to teach young people about racism.

Wales has now updated its curriculum so that racism and contributions from black, Asian and minority ethnic groups have to be included at every school.

Scotland has a flexible curriculum which allows teachers to decide what to teach. Deputy First Minister John Swinney said that Education Scotland was looking at resources to help schools to teach more about Black history and Scotland's role in the slave trade in July 2020.

In England the curriculum has not yet changed. However, a spokesperson from the government's Department for Education said: "Black history is an important topic which schools can teach to children of all ages as part of the history curriculum." in July 2020.

In Northern Ireland black history is not compulsory in schools.

Culture

Campaigners say Black culture should be recognised and appreciated. Picture: Getty

Some people have called for Black culture to be appreciated and credited.

There has also been a call for governments to fund or support black owned and black led events.

While there has been a significant increase of people calling out cultural appropriation, there is still more work to do on people being educated about things that derive from Black culture.

Black people have made an integral contribution to the world. Campaigners fight for this to be recognised as Black people have made history and stay making history in every industry.

Businesses

Campaigners called for businesses to publish their diversity reports. Picture: Getty

Some people have called for businesses and workplaces to publish their diversity and inclusion reports.

Campaigners say it is important that black people are well represented in the workplace, supported in the workplace and not turned away from a job because of their race.

Statistics show that Black people are largely discriminated against in workplaces.

Campaigners have called for more work opportunities for black and ethnic minority workers from businesses.

Media

Campaigners say Black people and ethnic minorities have been targeted by the media to create false narratives of certain communities.

Picture: Getty

For years, the US and UK media have had a huge influence on how Black people are portrayed.

Campaigners have argued that black people have been portrayed as villains, criminals, angry people and that several other negative ideals have been pushed in mainstream media.

On Tuesday 2020, it was #blackouttuesday – where the music industry supported the Black Lives Matter movement in the wake of the George Floyd.

Under the hashtag #TheShowMustBePaused, members of industries paused work to support the black community – mostly the music industry.

In Jun 2020, US and UK companies were held accountable for their lack of diversity and inclusion and campaigners called for change.