How long will Derek Chauvin be sentenced? How many years will he spend in jail?
21 April 2021, 16:58
When will Derek Chauvin get sentenced? Here's everything you need to know about what will happen next following the guilty verdict.
Derek Chauvin, the former Minneapolis police officer who was responsible for the murder of George Floyd, was found guilty on all three counts of charges on Tuesday (Apr 20).
The 12-person jury came to a decision after 15 days of court testimony and deliberating for roughly 10 hours.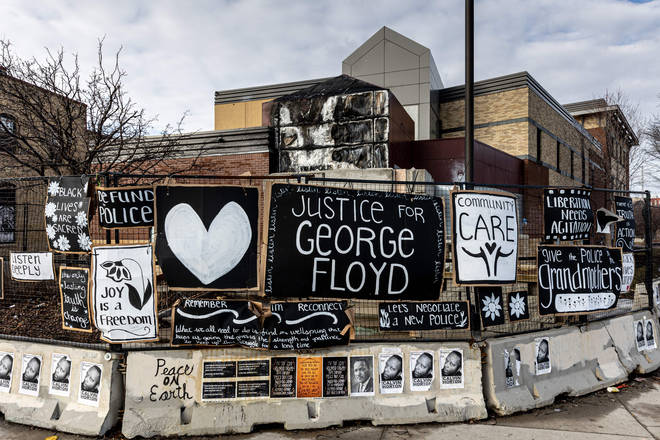 Chauvin, who was previously released on bail, left the courtroom in handcuffs following the jury's guilty verdict. Judge Peter Cahill also revoked Chauvin's bail.
He will remain in police custody until his sentencing, which is scheduled for June.
But how long will Derek Chauvin get sentenced to in jail?
How long will Derek Chauvin get sentenced?

Derek Chauvin was found guilty of two counts of murder. He was found guilty on second-degree unintentional murder and third-degree murder.

The potential sentence for each murder charge was 12.5 years for a defendant like Chauvin, due to him having no criminal history, according to Minnesota's state guidelines.

Protesters take part in Black Lives Matter marches around the world following George Floyd's death. Picture: Getty

However, the state has asked for a stricter sentence for Chauvin due to the murder taking place infront of children.

Another reason was that Chauvin treated Floyd with "particular cruelty".

The state are also asking for a stricter sentence as Chauvin "abused his position of authority."

The second-degree murder conviction could amount to 40 years in prison, while third-degree murder could mean up to 25 years in prison.

Chauvin was also found guilty of second-degree manslaughter, which could result in a maximum sentence of 10 years.

However, due to him not having a prior criminal history, the presumptive sentence is four years.

George Floyd mural. Picture: Getty

Chauvin could face a maximum of 75 years in prison. 

However, state law requires that people are sentenced according to the top count e.g. for second-degree murder, which holds a maximum 40-year sentence.

Judge Cahill will have the opportunity to opt to ignore state law, but it would be unusual.

The judge will determine if aggravating factors exist and decide the length of prison sentence for Chauvin.

When will Derek Chauvin get sentenced?

It will be another eight weeks before Hennepin County Judge Peter Cahill will sentence Chauvin, allowing time to consider the options.

The sentencing is scheduled for June. Chauvin's sentencing date has not yet been set.