Rihanna Shares Emotional Tribute To Lauren London Following Nipsey Hussle's Tragic Death
10 April 2019, 16:52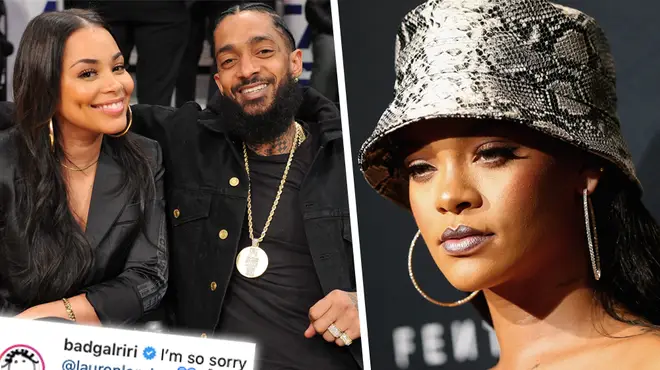 Rihanna takes to social media to pay tribute to the late rapper Nipsey Hussle and his girlfriend Lauren London, after suffering a great loss...
Since the passing of Nipsey Hussle, the world has reacted with love by posting tributes to the late legendary rapper. The hip hop community have come together and many celebrities such as Kanye West, Drake, Meek Mill and more pay respects to Nip.
Nipsey Hussle's girlfriend Lauren London posted her emotional tribute to her boyfriend who was sadly murdered in L.A and many celebrities have reached out to give support. Rihanna is the most recent celebrity to make a tribute post and dedicating it to Lauren London and Nip.
Rihanna took to Instagram heartbreaking tribute post for Nipsey Hussle. RiRi tagged Lauren London in the caption of the post underneath an emotional compliation clip of the couple's photos together.
The video features photos of the couple happily together, with an intense song called "Another Lifetime" by singer Nao.
The 31 year-old superstar, captioned the video "I'm so sorry @laurenlondon 💙🙏🏿💙". Many celebrities such as Rick Ross, Kevin Hart, Tamar and Reginae Carter commented on Rihanna's tribute to Nipsey Hussle and Lauren London.
Rihanna also posted screenshots of her DM's from a conversation between Hussle, and Yung Berg aka 'hitmaka'. The screenshots revealed that they were discussing a possible collaboration between Hussle and Rihanna.
In the DM conversation, Berg, 33, real name Christian Ward, is the rough version of a track titled 'On My Mind,' which Nipsey really wanted to work on. Rihanna posted the screenshot and captioned the conversation "#repost 😢💔"
There is no doubt that Rihanna would have adored the opportunity to collab with the talented rapper. Nipsey's fans have taken to Twitter to imagine what the collaborative song would have sounded like.