Meek Mill Responds After Nipsey Hussle's Alleged Killer Names OJ Simpson Prosecutor As Lawyer
5 April 2019, 12:36 | Updated: 5 April 2019, 13:59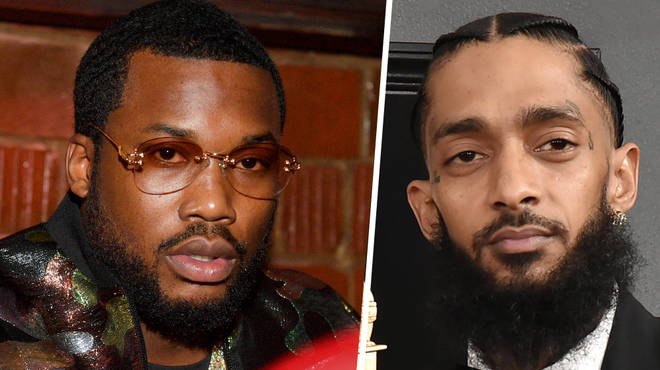 Meek Mill has responded to the news that emerged earlier today, revealing that OJ Simpsons prosecutor is representing Nipsey Hussle's alleged killer Eric Holder...
It's been a few days since news emerged that the legendary rapper Nipsey Hussle was murdered in Los Angeles outside of his Marathon Store. With many celebrities paying true to the late rapper, and wishing his alleged wife Lauren London condolences the vibe has been a sincere and heartfelt one.
However, Meek Mill makes reference to his frustration with the criminal justice system and has something to say on the prosecutor defending Nipsey Hussle's alleged killer.
Soon after the killing of Nipsey Hussle, his alleged killed was found and arrested. On Thursday, prosectutors filed the murder and attempted murder charges against alleged killer Eric Holder.
Earlier today, the alleged 'aspiring rapper' was in court where judges officially announced that he's facing one count of possession of a firearm by a felon, two counts of attempted murder for the two survivors of the shooting, and one count of murder for the death of Nipsey.
It has been revealed that attorney who will be representing and defending Holder is well known for high-profile cases. Christopher Darden became a popular attorney in the 1990s when he worked as a prosecutor in the infamous OJ Simpson trial.
Although it was an Los Angeles case, it was streamed worldwide and has gone down in history of one of the biggest celebrity court cases in history.
Earlier today, Meek Mill was alarmed by the news that Darden was representing Nipsey's alleged killer. Meek Mil took to Twitter to say how he feels about popular attorney Darden representing Holder.
Meek Mill reposted a US News article revealing 'Former OJ Simpson prosecutor represents Nipsey Hussle's killer' and captioned the tweet: "As self hate continues in the black community #housen***a "
Fans have responded to Meek's comment. See below.
I feel you Meek. He's a coon, but this happens in every community. Let's not perpetuate the idea that it's only in ours.

— Frederick Joseph (@FredTJoseph) April 5, 2019
During the court proceedings, Holder agreed to delay his next court proceeding until May 10.Holder is set to face life in prison and his bail is set at $5 million. According to the L.A. Times, Darden was "privately retained for Holder."
Eric Holder has previously been on the wrong side of the law. Holder spent 180 days in jail and was placed on three years of probation following a conviction over carrying a firearm, back in 2012.
Understood. Just seeing Chris Darden (a black man) being on the defense for this dude just compounds the confusion, frustration and anger over a senseless death all over again.

— Miss KG (@MissKayGee5) April 5, 2019
In other news, the woman responsible for driving the getaway car has reportedly made claims that she had no idea that a shooting was going to occur when she gave Holder a ride.
She has not been arrested or charged, according to Josh Rubenstein, the Los Angeles Police Department's Director of Communications.