Nicki Minaj Responds To Marriage Rumours After Calling Kenneth Petty Her 'Husband'
19 March 2019, 10:58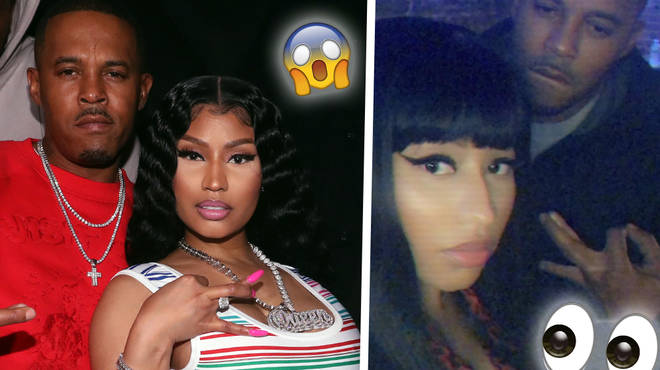 Nicki Minaj has cleared up marriage speculations after she called Kenneth Petty her 'husband' on Queen Radio...
Nicki Minaj has shared great detail of her relationship with Kenneth Petty with her fans recently. From sharing photos of the couple now, to throwbacks when they were young, Minaj has plastered the internet with adorable pictures and messages for boyfriend Kenneth Petty.
On Minaj's Live Queen Radio show in London, the 36 year-old rapper referred to Kenneth Petty as her 'husband'. Fans quickly caught on and took to social media to speculate on whether the Chun-Li star is married to Kenneth Petty or not.
According to TMZ, sources close to Nicki has revealed that although she is very much in love with boyfriend Petty, the Barbie Dreams star is not currently married to Petty. The source claims any reports saying they're married are false, despite Nicki Minaj calling Petty her 'husband' on air.
So Nicki Minaj has known her current bf pretty much all her life 😭 I really want them to get married bro

— 👩🏽‍🦱 (@blattttina) March 17, 2019
Nicki Minaj recorded a live show in London for Queen Radio (Mar 12th), which turned out to be an eventful show where she revealed details of her and Petty's intimate love life. Nicki Minaj told Queen radio:
"Every night when I get out of the shower, my husband takes this really good lotion that we just bought, and he massages my feet, and rubs them, and he rubs each toe individually, and the heel, and the ball of my foot, and he does it all," said the rapper on Queen Radio.
Some fans were overfilled with joy about the couples marriage, and others were perplexed by Nicki's decision to marry a convicted felon.
Kenneth has previously had run ins with the law, which includes convictions for first-degree attempted rape and manslaughter. However, Nicki Minaj has decided to stand by her lover regardless of his complex past.
The couple seem happily in love and Nicki Minaj clearly adores the boots off the man she refers to as 'husband'.