Kendrick Lamar new album 'Mr. Morale & The Big Steppers': features, tracklist & more
13 May 2022, 09:35
Kendrick Lamar - The Heart Part 5
Here's everything you need to know about Kendrick Lamar's new album Mr. Morale & The Big Steppers
Kendrick Lamar's new album Mr. Morale & The Big Steppers is FINALLY out, dropping this morning on all music platforms, and fans across the globe can't stop listening to the Pulitzer Prize latest work.
On May 12, Kendrick released the album cover art which show him wearing a crown of thorns whilst holding a child, and in the background, a woman is hold a baby too. The cover artwork was shot by Renell Medrano.
On May 9th, K. Dot released his brand new single and music video 'The Heart Part 5', which is a continuation of his 'The Heart' track series. The song was originally teased back in April on his website Oklama.com.
In the music video, Kendrick is shown using deepfake technology to change himself into Kanye West, Nipsey Hussle, Will Smith, Jussie Smollett, O.J. Simpson and Kobe Bryant.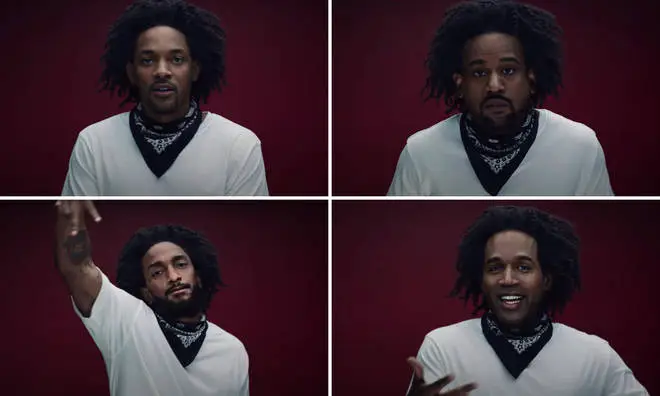 The 'Poetic Justice' rapper's last released 2017 album, DAMN, won him 'Best Rap Album' at the Grammys.
Here's everything we know so far about Mr. Morale & The Big Steppers.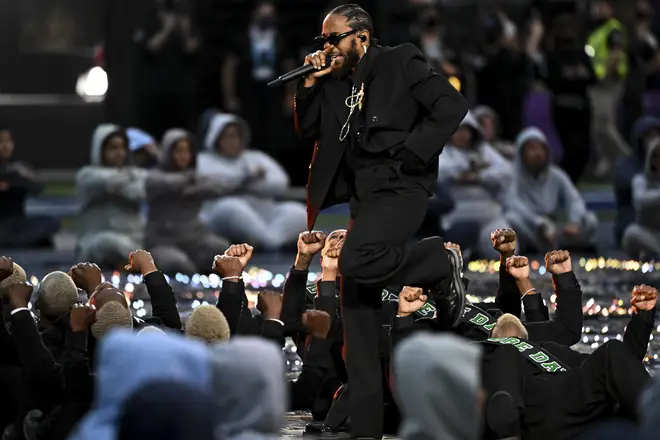 After he performed at the Super Bow LVI halftime show in February 2022 with Dr. Dre, Eminem, Mary J. Blige, Snoop Dogg and 50 Cent, fans grew suspicious that the Compton rapper was making his return.
It was also announced that he would be heading Rolling Loud Miami 2022 alongside Kanye West and Future, while UK fans await his hotly-anticipated headline performance at Glastonbury.
Following the announcement, the festival's official Twitter account tweeted and deleted: "Kendrick headlining Miami again means exactly what you think it means", with a follow-up tweet that said "It's been 5 long years".
This only promoted fans even more to believe that Kung Fu Kenny was releasing new music this year.
What will Kendrick Lamar's new album be called?

Kendrick Lamar's new album is titled Mr. Morale & The Big Steppers, revealing the news in April ahead of the record's May release.

He previously posted an elusive post on his otherwise empty Instagram that started speculation.

The image featured a graphic of a file labelled "nu thoughts", whilst the caption reads: "oklama.com".

If fans search "oklama.com" they are led to a website that features the same file, which if clicked on opens to a letter written by Kendrick.

It begins saying: "I spend most of my days with fleeting thoughts. Writing. Listening. And collecting old Beach cruisers."

"As I produce my final TDE album, I feel joy to have been a part of such a cultural imprint after 17 years" it reads. "The Struggles. The Success. And most importantly, the Brotherhood. May the Most High continue to use Top Dawg as a vessel for candid creators. As I continue to pursue my life's calling".

He then goes on to say: "I go months without a phone.".

Continuing: "There's beauty in completion. And always faith in the unknown."

"Thank you for keeping me in your thoughts. I've prayed for you all.".

"See you soon enough." Kendrick concludes.

Kendrick's letter promises music "soon enough".

Picture: Kendrick Lamar: oklama.com

When will Kendrick Lamar's new album be released?

Kendrick is dropping Mr. Morale & The Big Steppers on May 13, five years after the release of DAMN.

On April 18th, he updated his website, which saw several folders with different numbers on them. Beneath all them, is a file titled 'IMPORTANT' that contains a message that says '404 Error'.

He also confirmed that "all factual information for this release will come directly from this source only", adding "Appreciate your patience" at the bottom of the statement.

Speculation has been further with the artist having registered a range of new songs with ASCAP (American Society of Composers, Authors and Publishers).

The tracks registered are named:

'Before The Hangman's Noose',
'Comfortable',
'Director',
'Fighter Theif In The Night',
'Fade To Black',
'Erika Kane', '
End Of The Line',
'Of Paupers And Poets',
'Believe',
'Driving Down The Darkness',
'End Of The Line'
'Fell For You'.

This page will be updated as more information becomes available.

What songs will be on Kendrick Lamar's new album?

Kendrick is yet to release songs from his upcoming project.

However it has been announced that he will feature on Baby Keem's track 'family ties' - starting speculation that this may be a single from the rumoured album.

This page will be updated as more information becomes available.

Kendrick has promised new music "soon enough". Picture: Getty

What is the track-list for Kendrick Lamar's new album?

The official track-list is yet to be released.

This page will be updated as more information becomes available.

Will this be Kendrick Lamar's last album?

Kendrick fans have noticed that the stars letter says he is producing his "final TDE album".

However, whilst he says this is his final album with TDE, it may not be his final album released.

Kendrick says this will be his last TDE album. Picture: Getty

What is TDE?

TDE stands for 'Top Dawg Entertainment' and is a label founded by Anthony "Top Dawg" Tiffith.

Other artist's signed by TDE include: Jay Rock, Ab-Soul, Schoolboy Q, Isaiah Rashad and SZA - amongst others.

Is Kendrick Lamar's project going to be a double album?

On Tuesday (May 3) Kendrick Lamar's website oklama.com featuring the above photo of a book and two burned CDs.

The cover of the book has Kendrick's name and the new album title. One disc has "MORALE" and "MASTER COPY" scrawled in Sharpie.

Kendrick Lamar teases double LP.

Picture: Instagram

The other disc reads: "STEPPERS" and "MASTER COPY."

Fans have suggested that this may mean that Kendrick will be dropping off a double LP.
Fans can follow Kendrick on Instagram at: @KendrickLamar for updates.