Kanye West Dropped A Song With Lil Pump & Fans Think He's Dissing Drake
7 September 2018, 10:40 | Updated: 7 September 2018, 11:34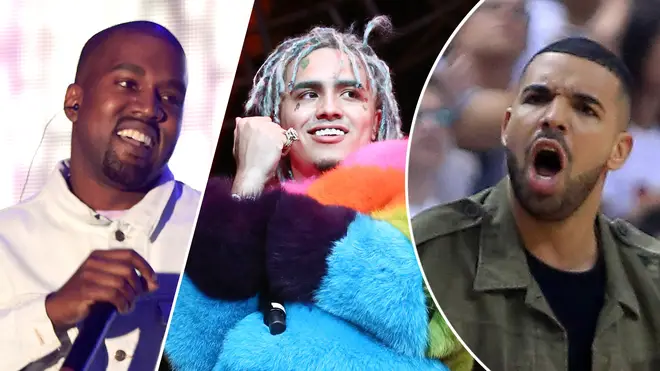 Read the lyrics here.
Last night, Kanye West debuted his new collaboration with Lil Pump, 'I Love It', at the Pornhub Awards in Los Angeles.
The Chicago rapper served as the creative director for the awards show, with his Donda company helping to manage the show's staging and production while decking out the show's performers in Yeezy gear.
A report surfaced hours before the show that Kanye would be dropping his new song with Lil Pump and, lo and behold, he did. West debuted the new track and it's accompanying video on a giant screen during the show.
The bizarre visuals see Kanye and the 'Gucci Gang' rapper wearing comically oversized outfits and shoes, weeks after West was mocked for his "too small" sliders at 2 Chainz's wedding.
Kanye West & Lil Pump ft. Adele Givens - "I Love It" (Official Music Video)
"You're such a fuckin' h*, I love it / Your boyfriend is a dork, McLovin," Lil Pump sing-raps over the hook of the song.
After the footage appeared online - as well as a leaked version of the song - fans began dissecting the lyrics, with many suggesting that West could be indirectly dissing Drake in one of his bars.
According to Genius, Kanye spits, "How you start a family? The condom slipped up." The lyric follows Drake's admission earlier this year confirming that he has a secret child.
The track arrived after Kanye recently admitted that he didn't leak any information about Drake's son, following rumours that he told Pusha T and, ultimately, leading to his infamous diss track 'The Story Of Adidon'.
West took to Twitter to apologise for their ongoing beef and even offered to link up during Drake's tour, with Pusha T confirming in a recent interview that Kanye played no part in his diss track.
Drake is yet to officially comment on the situation.