Drake Fans Are Convinced They Know Which Girl 'Jaded' Is Really About
3 July 2018, 10:51 | Updated: 24 August 2018, 15:38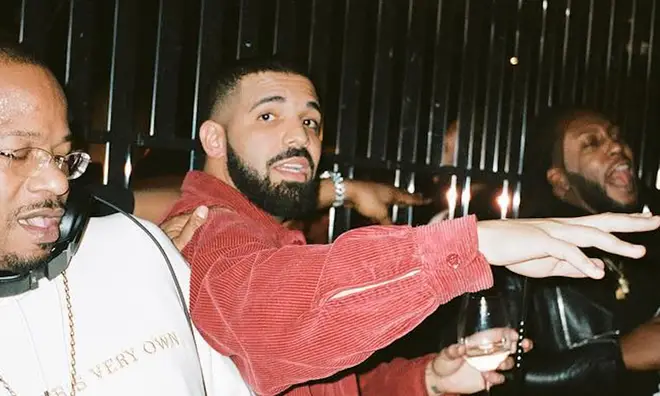 "Drake in those feels."
Drake dropped number of bombshells on his new album 'Scorpion' - he confirmed he has a son, spilled details of his relationship with the child's mother, and, as expected, got in his feelings.
The Canadian rapper opens up about his recent romantic experiences on the album, and fans think they've sussed the inspiration for his mellow new song 'Jaded'.
"You wanna hit me up when you make it, you'll try and come back when you famous," he croons. "Told me about all your insecurities, for what? Dragged me like two hours to your family's house, for what?"
Later in the song, he mentions that the love interest in question isn't giving anything away in her recent snaps, before bringing up an age gap. "How you even managin' to keep straight faces, in all the pictures that I seen lately,"
"We coulda waited, I wasn't rushin', difference in ages, you're old enough, but you're still a baby." After dropping the cryptic clues, listeners are convinced the song is about British singer Jorja Smith.
Am I the only one that thinks Drake's Jaded is about Jorja Smith?

• age difference
• singer on the rise
• Jorja took Drake to hometown (which is probably 2hr drive)
• Jorja is dating someone not as big as Drake
• Drake and Jorja unfollowed each other on ig

— ChampagneSade (@ChampagneSade1) June 29, 2018
Yoooo so Drake wrote "Jaded" about Jorja Smith . Which explain the line about the age difference plus basically Jorja's whole "Lost & Found" album 🤯

— Kel♦️ (@_StayCoolin) June 30, 2018
Here's my theory y'all... Drake and Jorja have a love affair goin on. Drake wrote 'Jaded' & 'final fantasy' for Jorja Smith.

Jorja wrote 'teenage fantasy' & 'lost & found' for him pic.twitter.com/hqQgl6JXRU

— Caba. (@abacmn_) June 30, 2018
Lol, Drake was fucking Jorja Smith. She took him to see her parents. Told him to be patient with her while she got her shit together so they could be together, but she blatantly lied that they were just friends.

— wallow (@countmagic) July 1, 2018
Some fans are even convinced that Drake got a tattoo in honour of Smith. In the song 'March 14', Drizzy says that he has the number '11' inked on him, which is now in honour of his son, following his birth on October 11th.
Jorja's birthday is on June 11th, so could this have been the original meaning behind the tattoo?
Drake said he got 11 tatted for something else and coincidentally his son was born on October 11th so it replaces the meaning... Jorja Smith was born on June 11th... 👀

— Shauna Shadae (@ShaunaShadae) July 1, 2018
So drake's 11 tattoo was actually for jorja Smith 🤔🤔

— whats the point @nba (@prettyboymanny) June 29, 2018
Jorja and Drake were rumoured to have been dating at the beginning of 2017. Around that time, Jorja featured on Drake's playlist project 'More Life' on the track 'Get It Together', allegedly replacing Jennifer Lopez.
The OVO hitmaker is yet to respond to the speculation. It was recently reported that his new song 'Finesse' is about rumoured former flame Bella Hadid, a claim she later denied.