Are Yung Miami and Diddy dating? Viral video sparks relationship rumours
5 August 2021, 18:01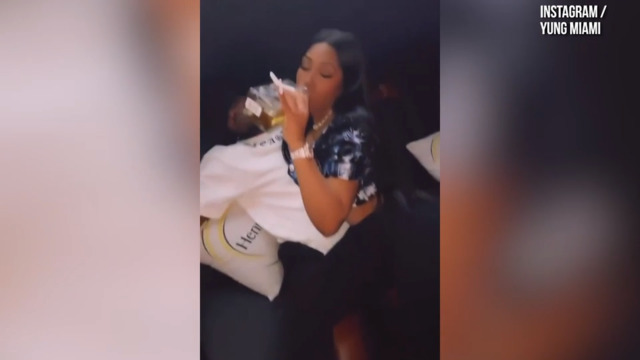 Yung Miami and Diddy spark dating rumours
Fans are convinced Yung Miami and Diddy are in a relationship – but are they dating? Here's what we know so far...
Yung Miami and Diddy have re-ignited rumours that they are dating as the pair were spotted looking cozy in a new video.
However, it was not the first time the pair had been romantically linked with one another.
The first set of dating rumours began in June – when they were spotted holding hands at Quality Control CEO Pierre "P"'s birthday party.
Here's what we know about Yung Miami and Diddy so far.
Jun 2021 - Yung Miami and Diddy spotted 'holding hands'

the 40th birthday of Quality Control CEO Pierre "Pee" Thomas included a lavish black-tie event and a star-studded guest list.

Diddy and City Girls' Yung Miami attended the party as well, however, social media noticed the pair were getting close than usual.

The two initially sparked dating rumours after posting several snaps of them pictured together on their social media accounts.

One photo in Yung Miami's Instagram carousel showed her holding hands with Diddy.

Fans took to social media and speculated that the pair were more than just friends.

Aug 2021 - Yung Miami spotted sitting on Diddy's lap in a cozy video

Yung Miami shared a video of herself sitting on Diddy's lap on her Instagram story on Wednesday (Aug 4).

The star is seen drinking his Deleon Tequila, while comfortably parked on his lap.

In the video, Diddy is seen just laying back with Yung Miami on his lap.

Fans believe this clip confirmed the initial relationship rumours and deemed it as them going "Instagram official".

One twitter user wrote: "yung miami and diddy is so… strange but i like it", while another added: "definitely loving yung miami and diddy.".

See other reactions below.

What is the age gap difference between Yung Miami and Diddy?

While she fans are rooting for Diddy and Yung Miami, others have pointed out their age gap for a cause for concern.

Diddy is currently 51 years-old (born 4 November 1969) and Yung Miami is currently 27 years-old (born 11 February 1994).

Their age gap is 24 years. Many fans have criticised Diddy for going for younger girls.

He was previously criticised for dating Lori Harvey in 2019, when she was 22-years-old.