Yung Miami Dragged For Suggesting She's "Chinese Or Asian" After Giving Birth
22 October 2019, 17:38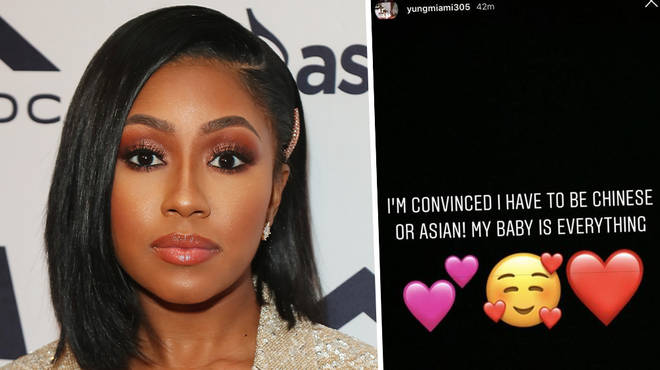 City Girls' rapper Yung Miami has been slammed online for suggesting she is "Chinese or Asian" based on her newborn babies appearance.
Yung Miami recently gave birth to her first child with 808 Mafia producer, Southside on Friday (Oct 18). They named their daughter, Summer, and shared a few photos of their newborn in the hospital. 
A few days after the newborn arrived, Yung Miami took to Instagram to and posted two photos of her baby girl, without her face on show. However, Miami attempted to explain what her baby looked like in a distasteful post which caught flack online.
While may embraced her photos of her newborn, the City Girls rapper followed the sweet pictures with an insensitive IG story.
Over an all-black screen, Yung Miami wrote, "I'm convinced I have to be Chinese or Asian! My baby is everything!"
The Instagram post upset fans and criticised Miami's implicit anti-blackness. Many fans believe Yung Miami insinuated that her daughter's cute features would have to be attributed to some other race.
Internet users also mocked the ignorance of her saying "Chinese or Asian." 
One fan wrote "I can't stand when black people want their children to look every other way besides black.". Another Twitter user wrote "
Yung Miami: I must be mixed with Chinese or Asian because there's NO way my baby would've came out beautiful if I were 100% black ☺️❤️

— 🖤 The HOmen 🖤 (@imanimlewis) October 18, 2019
Yung Miami is ignorant. Talking about she convinced her baby is Asian or something cause she's pretty. IGNORANT.

— 🌻 (@nekaaa_xo) October 18, 2019
yung miami needs to be held accountable for saying "chinese or asian" chinese is a part of the asian diaspora. stands in my point that black people fetishizes asian culture and racially prejudicing them at the same time and our community looks like they're ready to talk about it

— #PJMKoreanKingofRnB ✊🏽✊🏾✊🏿 (@BTSBlackArmyTwt) October 19, 2019