Tory Lanez Revealed His Favourite Rapper And People Are Confused
24 July 2019, 16:15 | Updated: 24 July 2019, 16:19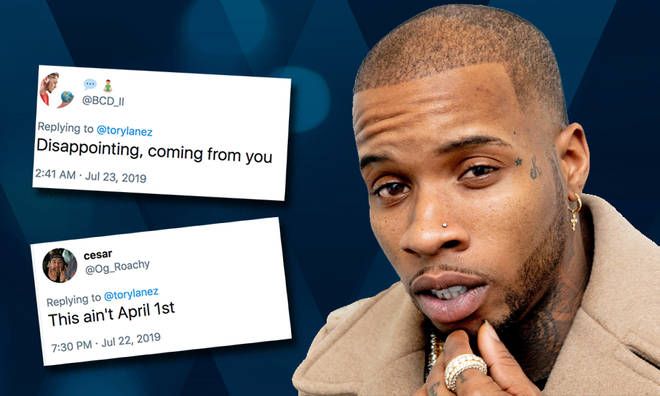 The Canadian star took to social media to reveal his favourite rapper right now and people were pretty surprised.
Every rapper claims to be your favourite rapper's favourite rapper, but Tory Lanez recently took to Twitter to tell his 1.6 million followers exactly who his favourite rapper right now is - the only thing is that it's left a lot of people confused.
Instead of selecting a high profile name like Travis Scott, Future or Megan Thee Stallion, the Canadian rapper stated 'My favorite rapper atm is O Geezy from ShoreLine Mafia ...... weird fun fact.'
My favorite rapper atm is O Geezy from ShoreLine Mafia ...... weird fun fact . 😎

— Tory Lanez (@torylanez) July 22, 2019
For those people who aren't as invested in the rap game as others, Ohgeesy (real name Alejandro Coranza) is an LA rapper and member of collective Shoreline Mafia.
The group have released a number of projects across the last few years and clearly caught the attention of Tory, who has now singled out Ohgeesy as his go-to spitter right now.
It's fair to say the announcement was not what many fans were expecting and Tory received some confused replies to his favourite rapper reveal.
Don't embarrass yourself like that

— Lina Fuentes (@fuenteslina11) July 23, 2019
Alright you can stop trolling now Daystar

— " A LONE STAR " (@eyezayanthony) July 22, 2019
Responding to Tory, Ohgeesy tweeted, 'my boy!!! Its luvvvv! geezy lanez yal not ready'.
Whilst Tory Lanez has revealed his respect for Ohgeesy, fellow Canadian Drake has also revealed he's a fan of the Shoreline spitter by following him on Instagram.
Drake has been known to work with rising artists and help use his colossal platform to fast-track his collaborators rise to fame and with Ohgeesy retweeting fans shouting about his new follower, we're keeping our eyes peeled for a tune soon.
Tory Lanez and Ohgeesy are yet to collaborate on any music either, but with Tory making the first step by co-signing the 24 year old Los Angeles rapper we're definitely keeping our fingers crossed for something in the future!
> Download Our Free App For All The Latest Music News