Soulja Boy Accuses Blac Chyna Of Hacking Him After Posting Vulgar Post-Breakup Tweet
22 February 2019, 12:37 | Updated: 22 February 2019, 12:41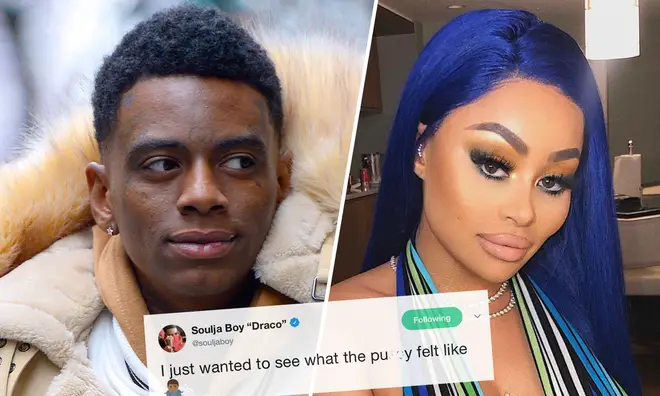 Soulja Boy claims Blac Chyna posted an apology tweet from his account after the 'Crank Dat!' rapper tweeted a vulgar response to his fake relationship with the model.
Soulja Boy has accused Blac Chyna of hacking into his phone and tweeting a fake apology to her.
The 'Kiss Me Thru The Phone' rapper claims the 30-year-old model sent out "apologies" on his behalf after the rapper posted a vulgar tweet regarding their supposedly fake relationship.
Previously, Soulja had responded to a report documenting his split with Chyna. The rapper tweeted, "I just wanted to see what the p***y felt like."
Hours later, Soulja tweeted an apology to Chyna, whom the rapper was supposedly dating following her fling with rapper Kid Buu, claiming that the pair have a "mutual friendship" following their split.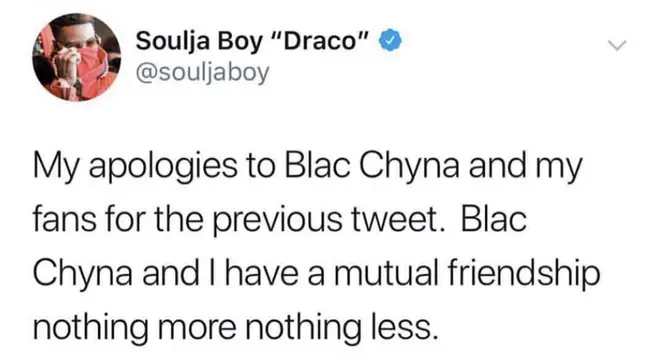 However, soon after, Soulja claimed Chyna had "hacked his phone" after leaving it at her house and denied tweeting the apology, before reiterating his previous statement.
"Like I said, I just wanted to see what that p***y felt like," he wrote. The 28-year-old rapper then confirmed his relationship with Instagram model Tiona Fernan.
"What I look like dating Blac Chyna," asked Soulja, who was recently pictured cosying up to Rob Kardashian's ex-girlfriend over Grammy weekend, "Stop playing with me lol."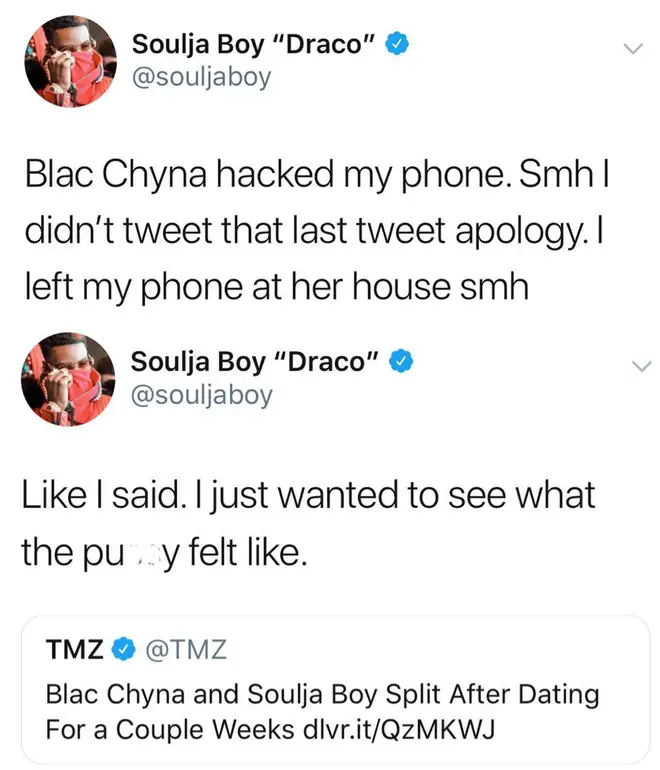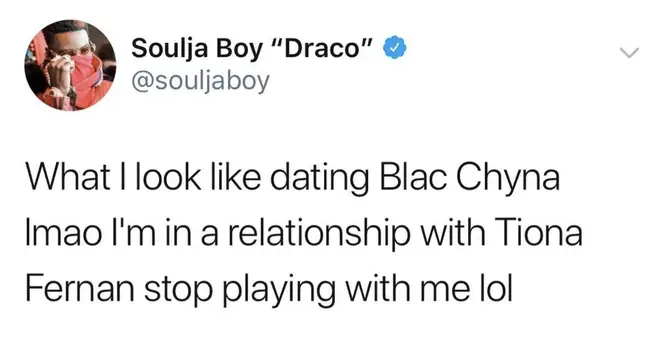 Chyna is yet to respond to Soulja's claims. The rumoured couple's relationship was exposed as being fake after Soulja posted a tribute to his real girlfriend on Instagram.
It was also reported that their relationship was purely a bid to troll Chyna's ex-boyfriend Tyga after Soulja recently dragged him amid claims he had "the biggest comeback of 2018".