Quavo performs emotional tribute of 'Without You' for Takeoff at 2023 Grammy Awards
6 February 2023, 09:40
Quavo took to the 2023 Grammys stage to perform an emotional tribute to his nephew Takeoff.
Rapper Quavo performed an emotional tribute to fellow Migos member and nephew Takeoff, who was tragically shot and killed last November at the Grammy awards last night.
He sung "Without You", which was written in the months after the loss of the beloved member of Migos, and fans found the tribute moving and touching after the loss of Takeoff.
There was not a dry eye in sight as Quavo held Takeoff's chain to the sky during the performance of 'Without You'.
Quavo shares emotional tribute song to Takeoff after his tragic death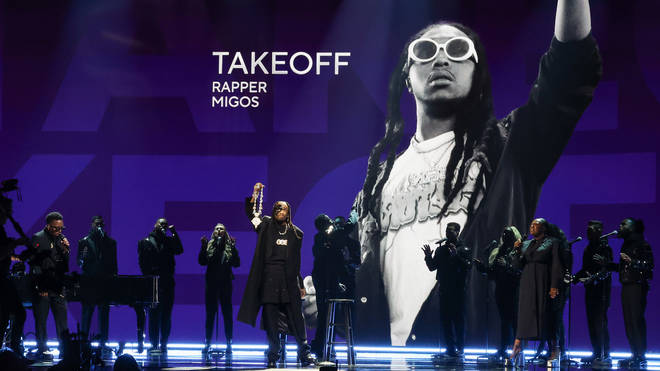 The 31-year-old rapper sung touching lyrics in honour of the late Migos member, "Out in the galaxy, up in the stars / Over the universe, it's bigger than Mars / See you in heaven, see you heaven / When I see you in heaven, I'ma be with my dog."
Quavo's performance was met with a similarly emotional reaction online, with one user saying, "That was a beautiful tribute, Quavo was very strong."
Another quipped: "Quavo holding Takeoff's chain I'm crying" alongside multiple sad face emojis.
Offset, Quavo & Cardi B spotted for first time after Takeoff's tragic death
Quavo's tribute to Take off at the Grammys broke my heart.

— weirdloner (@rosieinno) February 6, 2023
The Migos rapper was joined by Atlanta gospel group Maverick City Music, and the performance took place during the 'In Memoriam" segment of the 2023 Grammy Awards.
The performance was one of three in the segment, with Kacey Musgraves performed "Coal Miner's Daughter" in honour of Loretta Lynn, and Sheryl Crow, Mick Fleetwood, and Bonnie Raitt remembered the late Christine McVie.
Takeoff was tragically shot and killed on November 1, 2022 at a bowling alley in Houston, Texas. His murder suspect is currently on bail and has pleaded not guilty to the charge.