Lil Xan Suggests Girlfriend May Have Faked Pregnancy And Miscarriage In Shock New Claims
25 April 2019, 16:50 | Updated: 26 April 2019, 11:08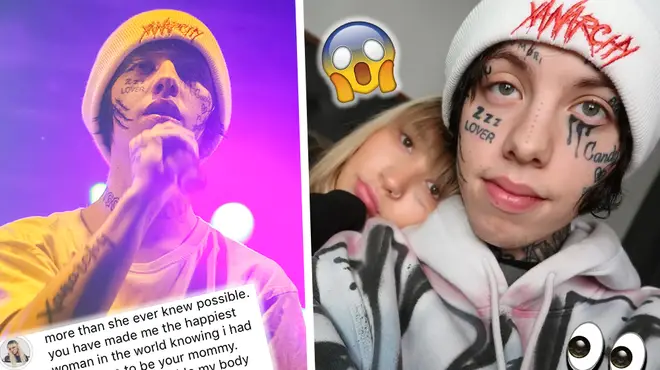 Lil Xan has revealed that he's "50/50" on whether he believes his girlfriend was pregnant with his baby and has requested hospital paperwork for proof...
Rapper Lil Xan and his fiancée Annie Smith announced that they were expecting their first child early February this year. However, shortly after, Smith took to Instagram to reveal that she had suffered a miscarriage.
The couple must be going through a hard time. Especially now, since Lil Xan has revealed that he's slightly doubtful about whether Smith was even pregnant in the first place.
Lil Xan on Fake Pregnancy, Dealing with Hate, If He's Sober & More
In a recent interview, the 22 year-old rapper Xan sat down with No Jumper and discussed the rumors suggesting that Smith faked her pregnancy.
The Californian rapper said that he didn't plan a fake pregnancy with Smith. However, he did say "I saw two pregnancy tests with the line that said, 'You're pregnant,' and I was like, 'OK, so she's definitely pregnant.' But I didn't watch her pee."
The "Betrayed" rapper done his research and found out that it is "pretty easy" to fake a pregnancy test. He also revealed that he is "50/50" about whether Smith was carrying his child or not.
Lil Zan continued to express his frustration about people thinking he was in on the alleged scam. He said:
"It pisses me off, though, because if I'm right...people are like, 'Lil Xan faked his pregnancy.' When I literally was just like with everyone else here, thinking that I had a baby on the way."
The "Xanarchy" artist revealed that he pursued getting paperwork from the hospital to prove that Smith had a miscarriage. Lil Xan said:
"We're supposed to be getting some documentation from [hospital] Kaiser Permanente...But I was like, 'I need the paperwork of the miscarriage that you had,'" he said.
He continued: "This is another suspicious thing...I was like, 'Go down to the hospital...and get the paperwork...saying that you had a miscarriage.' But she came back saying, 'Oh, I have to do this process and sh*t.' It really gets you thinking, you know what I mean? I want to give her the benefit of the doubt."
In other Lil Xan news, rumors surfaced that Xan and Smith called it quits on their relationship earlier today. However, Xan has posted a photo of him and his fiancée on Instagram, and they seem fine.
>
>
>