Is Lil Nas X really pregnant? Fans confused after rapper debuts baby bump
7 September 2021, 16:13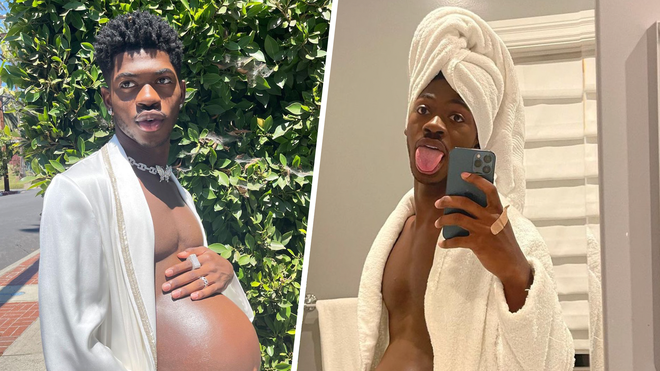 Fans are wondering if Lil Nas X's pregnancy baby bump is real. Here's everything we know...
Lil Nas X has shocked fans after debuting his "pregnancy baby bump" in several photos he has shared online.
The 22-year-old rapper has caused a storm online in the trans community, with people claiming he used the pregnancy bump in order to gain attention for the launch of his debut album.
But fans are wondering – is Lil Nas X really pregnant?
Is Lil Nas X really pregnant?

On Friday (Sept 4) Lil Nas X shocked fans when he revealed his baby bump for the first time.

The star shared photos from his "pregnancy photoshoot" where he was pictured in an all white outfit, cradling his baby bump.

The 'Old Town Road' rapper captioned the photos: "SURPRISE! I can't believe i'm finally announcing this. My little bundle of joy "MONTERO" is due September 17, 2021."

Taking to Twitter, Lil Nas X thanked former US president Barack Obama for the "early baby shower gift" alongside a photo of a baby gift hamper with 'Montero' written on the front.

Fans have asked whether Lil Nas X is really pregnant – and the answer is, no.

The rapper is using a fake pregnancy baby bump to suggest he is "giving birth" to his first debut album.

Why did Lil Nas X get backlash for his baby bump?

Lil Nas X was called out by many people, including Schuyler Bailar who is a trans advocate and athlete.

Bailar claims that the fake pregnancy stunt was "insensitive and irresponsible" as it is grounded in a "shock factor" experience and perpetuates the idea that men cannot get pregnant, adding that "trans men can and do all the time."

Bailar wrote: "Lil Nas X's portrayal of pregnancy as a cis man welcomes ignorance and hatred towards the trans masculine community specifically," he added, including screenshots of transphobic comments left under the rapper's post.

While many people have called out Lil Nas X, Black trans people have argued that racial bias needs to be taken into account with this situation.

People were in the comment section saying that Bailer had called out Lil Nas X, but not James Charles (a white, gay American beauty vlogger) - who posted a fake pregnancy shoot earlier this year.

Bailar later went on Instagram Live with Kayden Coleman, where he explained that while he agrees that the act could be perceived as transphobic by other trans men, he believes that those criticising Lil Nas X without also calling out cis white men who have done the same thing are exhibiting anti-Black bias.