Khloe Kardashian Slammed For Body Shaming Jordyn Woods In New KUWTK Clip - WATCH
2 July 2019, 11:46 | Updated: 5 October 2020, 12:52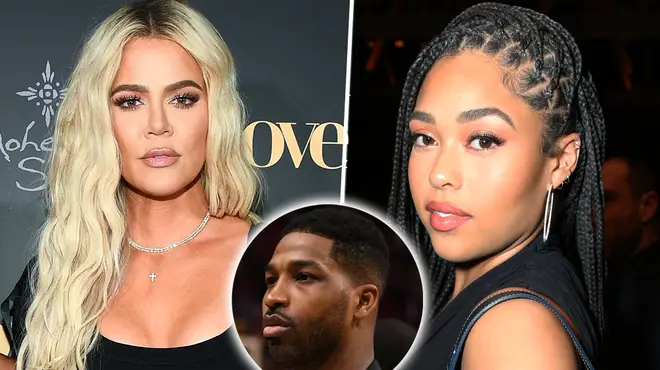 Khloe Kardashian has received brutal backlash after body shaming Jordyn Woods and Tristan Thompson in a new clip of the KUWTK finale.
Khloe Kardashian, 35, has received a significant amount of backlash over body shaming Jordyn Woods, 21 in a new teaser of the Keeping Up With The Kardashians finale trailer.
In the clip of the final episode, Khloe is seen drinking and revealing how she truly feels about the Tristan and Jordyn cheating scandal that emerged in February. The reality TV star also body shames Tristan and Jordyn with 'disgusting' comments.
The Good American owner is clearly heartbroken from the situation, but fans claim it doesn't permit her to body shame Tristan or Jordyn.
Last week, the trailer for the season 16 finale of KUWTK premiered. During the clip, Khloe Kardashian says "Those both fat f**king assholes! Don't f**king lie to me though about lying though."
She continues: "Don't f**king say you didn't do something that you f**king did when you both f**king told me you kissed bitches! You're a f**king LIAR!" Khloe screamed to a friend on the phone, who claimed Jordyn and Tristan didn't really kiss. 
In the clip, Kim Kardashian says "she must be really drunk", referring to Khloe. Khloe appeared to be in a drunken rage, but many fans on Twitter believe it is not an excuse to refer to Jordyn and Tristan as "fat".
See fans reactions below.
Khloe Kardashian needs a piece of humble pie...chicks get surgery and forget where they came, so here's a reminder, & as for fat shaming Jordyn well your baby daddy liked it so she must not be too bad 🤷🏾 pic.twitter.com/rxF6We4Dp4

— Napoleonia Dynamite (@I_Am_TamRoe) July 1, 2019
Having a show about positive body images but fat shaming Jordyn 🤔🧐? Don't act like you weren't known as the fat sister all those yrs @khloekardashian . We rooted for you but nah last night wasn't a good look 4 u 🙅🏾‍♀️ #KUWTKFINALE

— Melissa Harvey (@MelissaHarvey3) July 1, 2019
Lost some respect for @khloekardashian when this cheating scandal happened initially, lost a lot more after tonight. You're fat shaming a beautiful young black woman and acting like something isn't wrong with YOU.

— Bree (@Missohmybn) July 1, 2019
Everyone who's been dragging @khloekardashian for fat shaming Jordyn - first of all, she was VERY DRUNK. AND she called BOTH TRISTAN AND JORDYN 'fat fucking assholes'. So does it mean she bodyshamed Tristan as well? COME THE FUCK ON GUYS. STOP TAKING WORDS LITERALLY. #KUWTK

— 🥃 (@earthyophelia) July 1, 2019
What do you think about Khloe Kardashian's comments ?