Julia Fox dating history: From Kanye West to Drake
24 February 2022, 17:27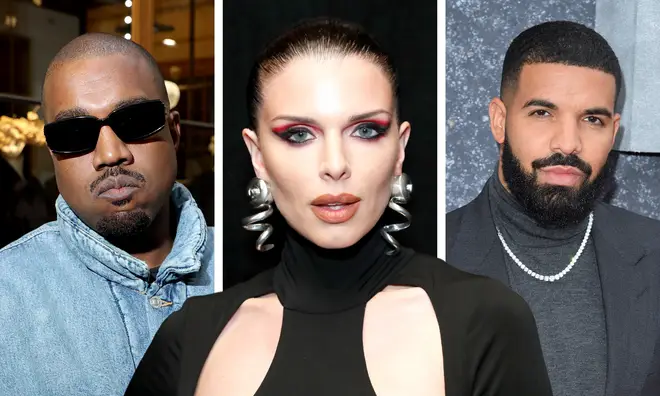 Who has Julia Fox dated? Is she single? Here's an insight into her relationships...
Julia Fox has been the talk of the town recently since dating and breaking up with Kim Kardashian's estranged husband Kanye West.
In case you missed it, here's a comprehensive list of Julia Fox's dating history, from his ex-husbands to rumoured boyfriends, and more.
Kanye West

Kanye West and Julia Fox seen on January 23, 2022 in Paris, France for Paris Fashion Week. Picture: Getty

Kanye West and Julia Fox officially became a couple after she confirmed the two were dating following the several rumours that were circulating, which started in December 2021.

In conversation with Interview Magazine, she detailed their time spent together, expanding on the rapper's generosity and fun energy.

"He had me and my friends laughing, dancing, and smiling all night. We decided to keep the energy going and fly back to New York City to see Slave Play".

"Ye's flight landed at six and the play was at seven and he was there ON TIME. I was impressed. After the play we chose to do dinner at Carbone which is one of my favorite restaurants. At the restaurant, Ye directed an entire photo shoot for me while people dined" she added.

After coining the term 'Juliye' for her and her man, the pair split on Valentine's Days after Kanye repeatedly begged for his family to get back together on his Instagram.

Declaring 'I wish my wife were with me', Julia reportedly dumped the rapper.

Julia Fox and Ye are seen, outside Schiaparelli, during Paris Fashion Week - Haute Couture Spring/Summer 2022, on January 24, 2022 in Paris, France. Picture: Getty

Drake

Drake attends the "Top Boy" UK Premiere at Hackney Picturehouse on September 04, 2019 in London, England. Picture: Getty

Julia Fox reportedly dated Drake after the release of the film Uncut Jams, which she starred in.

She addressed the rumours about their relationship on an episode of her podcast Forbidden Fruits, where she told her co-host Niki Takesh about her connection with the Certified Lover Boy.

"He's a great guy and a gentleman and that was it. Nothing really happened. We were just, like, friends hanging out….Yeah, like I wouldn't say that we were dating".

Peter Artemiev

Julia Fox and Peter Artemiev attend the "Hitman's Wife's Bodyguard" special screening at Crosby Street Hotel on June 14, 2021 in New York City. Picture: Getty

Julia Fox was married to private pilot Peter Artemiev for two years before calling it quits. When Julia Fox erased images of herself and Peter Artemiev from her Instagram account in 2020, rumours about their breakup began to circulate.

In May 2020, Fox told GQ, "We're nice, but we're not together." "He's still a friend of mine." I'm sure he'd prefer it to be more, but that's not going to happen.

Julia Fox and Peter Artemiev attend 'No Sudden Move' during 2021 Tribeca Festival at The Battery on June 18, 2021 in New York City. Picture: Getty

During their marriage, Fox gave birth to their son Valentino, who was born on January 17, 2021. She later claimed that Artemiev got her pregnant "intentionally" but she is glad to have her son in her life.