Juice Wrld's new album 'Legends Never Die": Release date, tracklist, features & more
10 July 2020, 11:09 | Updated: 10 July 2020, 11:23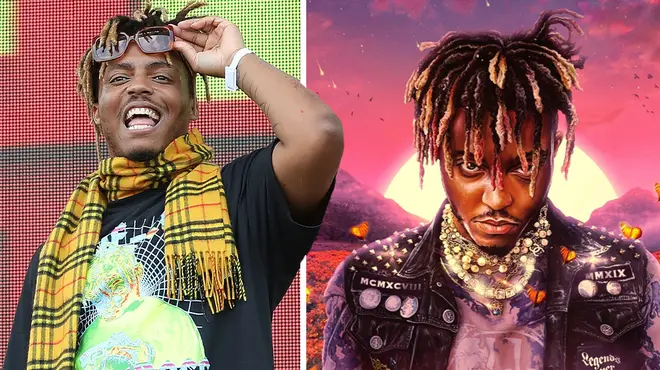 Late rapper Juice Wrld's new posthumous album is here. Find out more about 'Legends Never Die' here.
Juice WRLD's new posthumous album has been highly anticipated by fans of the rapper, especially since his sudden death last year (Dec 8).
The 21-year-old "Lucid Dreams" late rapper is well-renowned for his creativity, authentic sound and inspirational spirit.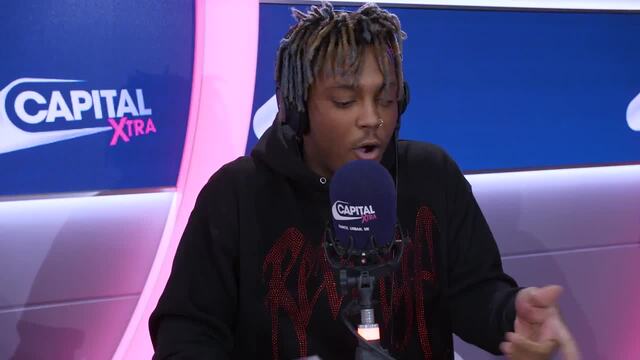 Juice WRLD Drops Epic HOUR-LONG Freestyle!
The rappers fans have been looking forward to hearing the rappers voice on a track, to feel closer to him. Well, the good news is that Juice's posthumous album here. Stream the album below.
Find out more about 'Legend's Never Die' below.
What is Juice Wrld's new album called ?

Juice WRLD's posthumous album is titled 'Legends Never Die'.

The album title speaks as a testament to Juice WRLD's character and what he achieved with his life on earth.

The album titled reminds supports of the rapper, that although his body is no longer here, Juice's music, influence and spirit is still here.

Fans pay tribute to Juice Wrld with mural at the 2019 Rolling Loud festival in LA. Picture: Getty

When will Juice Wrld's posthumous be released?

Juice WRLD's 'Legends Never Die' album was released on Friday (Jul 10), available on all streaming services.

Prior to the official release, Juice WRLD's estate announced the album will be dropping on Friday (Jul 10).

The post read: "This Friday we will be honoring the life and art of Juice WRLD by releasing his album, Legends Never Die".

"We feel that this collection of 15 songs best represents the music Juice was in the process of creating."

"The album shines a light on the collaborators that meant so much to Juice and deeply impacted his musical process."

"Juice dedicated his music to his fans and, now more than ever, we hope this album brings some reprieve to everyone during these unsettling times."

"Please join us in celebrating Juice's life by enjoying this album. Juice's legacy will live forever; Legends Never Die." See the post above.

On Thursday (April 9), Lil Bibby, a mentor and close friend of Juice WRLD, announced that the rapper's album will be "coming soon".

In the clip Bibby uploaded to Instagram, he is seen standing on Juice's skateboard while they are in the airport.

The Chicago rapper shared a caption, reflecting on a memory he shared with Juice.

In the comment section of the post, he revealed hat a posthumous album from Juice was on its way. See post screenshot below.

Lil Bibby reveals Juice WRLD's album is "coming soon".

Picture: Instagram

How many songs will be on Juice Wrld's album?

Juice WRLD's 'Legends Never Die' album consists of 21 tracks in total.

Stream the album above.

What is the tracklist to Juice Wrld's album?

Juice Wrld's Legends Never Die Album Tracklist

1. "Anxiety (Intro)"
2. "Conversations"
3. "Titanic"
4. "Bad Energy"
5. "Righteous"
6. "Blood on My Jeans"
7. "Tell Me U Luv Me" featuring Trippie Redd
8. Juice Wrld and Marshmello "Hate the Other Side" featuring Polo G and Kid Laroi
9. "Get Through It (Interlude)"
10. "Life's a Mess" featuring Halsey
11. Juice Wrld and Marshmello "Come & Go"
12. "I Want It"
13. "Fighting Demons"
14. "Wishing Well"
15. "Screw Juice"
16. "Up, Up and Away"
17. "The Man, The Myth, The Legend (Interlude)"
18. "Stay High"
19. "Can't Die"
20. "Man of the Year"
21. "Juice Wrld Speaks From Heaven (Outro)"

Who is featuring on Juice WRLD's album?

In the Instagram statement, announcing the album, the post claimed that the album will shine "a light on the collaborators that meant so much to Juice and deeply impacted his musical process."

The album features from artists such as Trippie Redd, Polo G, Kid Laroi and Marshmello .

However, there has not been an official tracklist for the album.

Singer Halsey will certainly be featuring on the album, since Juice's single featuring the New Jersey singer called "Life's A Mess" is out now.

See the lyrics for the song below.

What are the lyrics to "Life's A Mess" featuring Halsey?

[Intro: Juice WRLD]
Have you ever fallen head over heels for somebody?
Not just somebody
No, no
(Rex, you did it again)


[Verse 1: Juice WRLD]
Have you ever fallen head over heels for somebody
That made promises to give you the world? Um
I really hope they held you down
I really hope it was no lying
'Cause when heart breaks it feel like the world's gone
But if the love's real, you'd feel your soul roar like a lion
And you'd finally let bygones be bygones
Don't throw in the towel, I know it feels like you're the only one trying
You just gotta learn to live and love on


[Pre-Chorus: Juice WRLD]
I belong with the one put on this earth for me
Everybody has their someone, just gotta look and see
I'm screaming out, "Lord, help me," I've been lonely
That's when you accept me, then you set me free


[Chorus: Juice WRLD]
Uh, sometimes life's a mess
Uh, I get high when I'm upset
I remember when me and love didn't click
Searchin' for somethin' real, then I found it
Uh, sometimes life's a mess
Yeah, I get high when I'm upset
I remember when me and love ain't click
Lookin' for somethin' real, then I found it

[Verse 2: Juice WRLD]
Been pretty fuckin' bad, but it's better now
Through the trials and tribulations, I found my way out
Feel all of the good and bad vibrations all around
All around us, they surround us
Was a lost cause with some lost love
It ain't my fault, pain chose us
Then I found her
My whole world turned upside down, uh
But for the better


[Pre-Chorus: Juice WRLD]
I belong with the one put on this earth for me
Everybody has their someone, just gotta look and see
I'm screaming out, "Lord, help me," I've been lonely
That's when you accept me, then you set me free


[Chorus: Juice WRLD & Halsey]
Uh, sometimes life's a mess
Uh, I get high when I'm upset
I remember when me and love didn't click
Searchin' for somethin' real, then I found it
Uh, sometimes life's a mess
Yeah, I get high when I'm upset
I remember when me and love ain't click
Lookin' for somethin' real, then I found it

[Verse 3: Halsey]
Thank God I finally found you
You put the light in my eyes when I'm around you
I'm too flawed to hold you down, but
Don't wanna be here alone
And I thank God I finally found you
I'll put the light in your eyes if I'm allowed to
I'm too flawed to hold you down, but
Don't let me be here alone