Jaden Smith Confirms Rumours That He Is Dating Tyler The Creator
19 November 2018, 13:25 | Updated: 19 November 2018, 13:27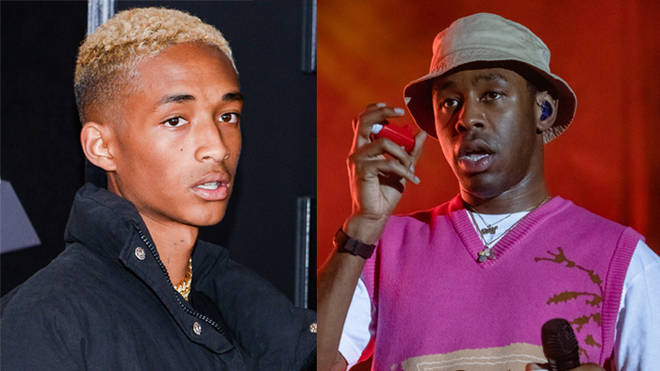 Jaden Smith has doubled-down on his previous claims he is secretly dating Tyler The Creator, following his announcement at Camp Flog Gnaw.
Jaden Smith appears to have confirmed that he is officially dating Tyler The Creator, after previously labelling the rapper his "boyfriend".
Smith initially surprised fans at Camp Flog Gnaw music festival, by claiming that Tyler The Creator "is my motherf*cking boyfriend".
"I want to tell you guys something," he told the crowd on stage, before claiming: "Tyler doesn't want to say. But Tyler is my motherf*cking boyfriend.
"And he's been my boyfriend my whole f*cking life. Tyler, The Creator is my f*cking boyfriend. It's true!"
Jaden later adding to the speculation on Twitter by insisting that they were dating.
"Yep Tyler The Creator I told everyone you can't deny it now," he tweeted.
At the time, Tyler The Creator, chose to not deny the allegations and responded with by tweeting: "hahaha you a crazy n*gga man."

Jaden Smith then chose to delete his original tweet, which suggested to some fans that it was part of a joke between the pair.
However Jaden Smith has now taken another step to confirm that they are actually dating during his latest interview.
While promoting his new project 'Sunset Tapes: A Cool Tape Story', Jaden said: "I recently said that Tyler, The Creator is my boyfriend and that's true."
"And that's true. So, just so you know."
Tyler The Creator sparked rumours that he was gay following the release of his latest album 'Flower Boy'.
However the rapper has never seriously addressed any of the rumours from fans.
While Jaden Smith has always expressed his gender fluidity and has modelled for Luis Vuitton's women's collection in the past.