Jaden Smith Deletes Tweet Appearing To 'Confirm' He Is Dating Tyler The Creator
15 November 2018, 10:36 | Updated: 15 November 2018, 10:41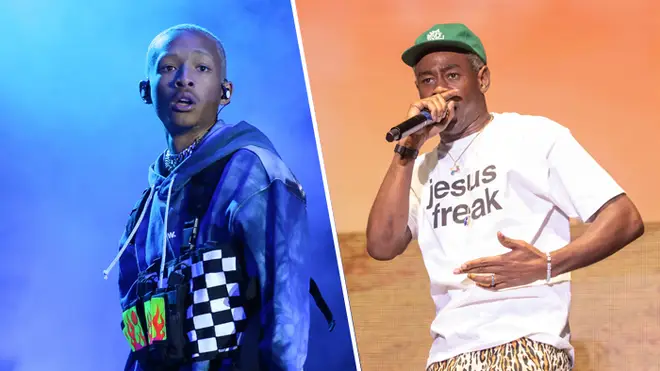 Is Jaden Smith dating Tyler The Creator? The 'Lost Boy' rapper 'confirmed' Tyler was his boyfriend at Camp Flog Gnaw festival this weekend.
Jaden Smith appears to have distanced himself from his earlier claims that he is secretly dating Tyler The Creator.
The 'Icon' rapper, surprised many fans after boldly declaring that Tyler The Creator was his boyfriend, on stage at Camp Flog Knaw music festival this weekend.
"I want to tell you guys something," he said on stage, adding: "Tyler doesn't want to say. But Tyler is my motherf*cking boyfriend. 
"And he's been my boyfriend my whole f*cking life. Tyler, The Creator is my f*cking boyfriend. It's true!"
Following Jaden Smith's performance at the festival, he took to Twitter to further fuel the speculation.
"Yep Tyler The Creator I told everyone you can't deny it now," he tweeted.

However interestingly, Jaden Smith has now deleted the tweet, although Tyler The Creator's response still remains.
Despite being heavily criticised for homophobic slurs in the past, some fans strongly suspected that Tyler The Creator was gay, following his latest album 'Flower Boy'.
In 2015, Tyler tweeted: "I TRIED TO COME OUT THE DAMN CLOSET LIKE FOUR DAYS AGO AND NO ONE CARED HAHAHHAHAHA."
However the controversial rapper, who is known for trolling, has never confirmed his sexuality.
Jaden Smith has also never directly addressed his sexuality however the rapper has openly spoken about being gender fluid and previously modelled Luis Vuitton's women's collection.