Did Tyler, The Creator Just Come Out As Gay?
11 July 2017, 10:35 | Updated: 11 July 2017, 10:47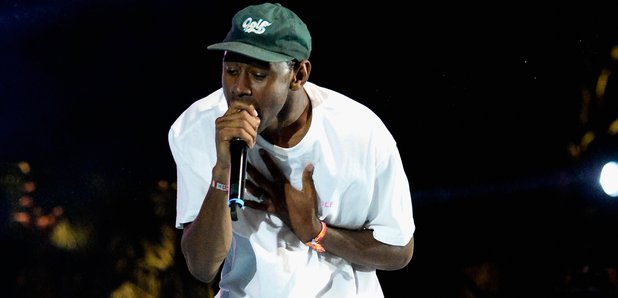 The rapper appears to have made the announcement on his new album.
Tyler, The Creator has dropped hints that he may have come out as gay in lyrics from his upcoming album 'Scum F*ck Flower Boy'.
The project, which leaked online over the weekend, has caused fans to speculate after a few standout lyrics.
On 'I Ain't Got Time!', Tyler appears to reveal the news, rapping: "Next line will have them like, 'woah' / I been kissing white boys since 2004".
The Odd Future rapper also draws attention to the topic with some cryptic lyrics on a song called 'Garden Shed' featuring Estelle, rapping: "Them feelings I was guardin', heavy on my mind/All my friends lost, they couldn't read the signs/I didn't wanna talk and tell 'em my location, and they ain't wanna walk/Truth is, since a youth kid, thought it was a phase, Thought it'd be like the Frank; poof, gone…"

Interestingly, Tyler has been involved in homophobic controversies in the past, including 2015 song 'F*ck It' – which was a response to Australian activist group Collective Shout, who forced the US rapper to cancel his tour Down Under.
"How can I be misogynist / Love titties and ass / How can I be homophobic / When my boyfriend's a f*g?" he rapped on the track.
However he has been supportive of the LBGT community in the past, previously releasing a special Pride series of his GOLF clothing brand.
He's also dropped a number of hints on social media, although it's important to note that Tyler is known to joke around with his fans.
I TRIED TO COME OUT THE DAMN CLOSET LIKE FOUR DAYS AGO AND NO ONE CARED HAHAHHAHAHA

— Tyler, The Creator (@tylerthecreator) April 13, 2015
NOT POSSIBLE, WE'RE BOTH GAY https://t.co/xoCXLyThPv

— Tyler, The Creator (@tylerthecreator) August 16, 2016
CANT SLEEP; IN EUROPE ; BEEN DRAWING STUFF pic.twitter.com/ilqQbOhwiX

— Tyler, The Creator (@tylerthecreator) July 4, 2016
When asked by Larry King about whether Hip-Hop was ready for a "gay rap artist" back in 2014, he said: "Maybe one day...but why does that sh*t matter? Like, if he wanna f*ck dudes or whatever, why does that matter? Why do we care? That's so crazy right?"
Tyler's good friend Frank Ocean famously came out as bisexual in his 2012 album 'Channel Orange'.