Digga D 'Made In The Pyrex' mixtape: Release date, tracklist, features & more
25 February 2021, 14:01 | Updated: 25 February 2021, 16:37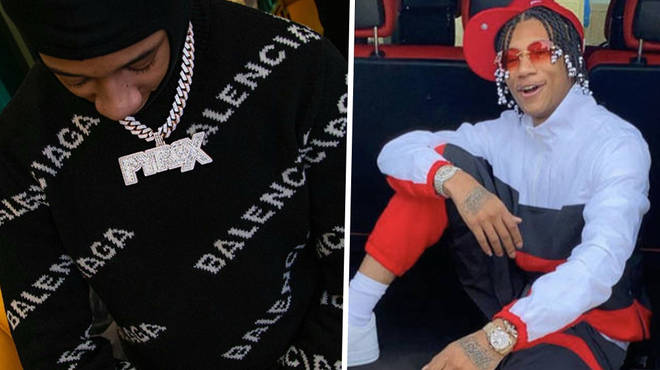 UK rapper Digga D teases his forthcoming mixtape 'Made In The Pyrex'.
Digga D has revealed that he will be dropping his new mixtape 'Made In The Pyrex' this year.
The West London rapper, mostly known for his tracks 'Woi' and 'Chingy' returned from prison with two of the biggest Drill hits of 2020.
The 20-year-old rapper began to rise to fame when he was in a rap group called 1011, which was later renamed to CGM.
Often referred to as one of the Drill pioneers, Digga D has had over five singles in the UK Singles Chart.
The rappers 2019 mixtape Double Tap Diaries, reached number 11 on the UK Albums Chart – But he is returning with more bangers on his forthcoming project.
When is Digga D's new mixtape being released?

Digga D revealed his mixtape will be dropping on Friday 26th Feb at 12am.

He made the announcement on Twitter, following a magnum-esque alcohol drink titled 'MITP' – standing for 'Made In The Pyrex'.

The rapper initially teased his new mixtape on Wednesday (Feb 11), while sharing a video of him being pulled over by police.

The rapper is no stranger to having run-ins with authorities. In 2018, Digga D was convicted of conspiracy to commit violent disorder.

Since then, the rapper has been back to prison three times.

However, in a recent BBC documentary, Digga D claims he's 'learned from his mistakes' and aims to continue to focus on his career, despite the restraints police have put on him.

Alongside the video of police pulling him over on Instagram, Digga wrote "Stay tuned 6:30pm Everyone comment MADE IN THE PYREX".

Later that evening, Digga shared a video of him getting an iced out chain from A Jewellers.

The clip featured audio from his new track 'Bringing It Back' with AJ Tracey.

The rapper also went on Instagram Live and previewed some new music in order see what songs his fans were feeling.

In an Instagram post, Digga shared that he will released his 'UkGossip (Toxic)' track if his fans purchase his new song on iTunes.

"I see all the love I'm getting off that "UkGossip (Toxic)" preview, true say it's Thursday when everyone drops music, if you want that one send me all your purchases of 'Bringing It Back' on iTunes now and I'll drop today🦠🦠" Digga D wrote.

There is no official release date for Digga D's mixtape as of yet.

Who will feature on Digga D's new mixtape?

As for now, Digga D hasn't revealed any extra details about who will feature on his mixtape.

So far, his song with AJ Tracey 'Bringing It Back' will be on his mixtape.

Watch the music video below.

What is the tracklist to Digga D's new mixtape?

On Wednesday (Feb 10) Digga D took to snapchat to tell his fans that he will release the tracklist to 'Made In The Pyrex', under one condition.

The rapper said he would reveal the tracklist after receiving 1000 screenshot of fans purchases to his new track 'Bringing It Back' with AJ Tracey.

Digga D says he will share the tracklist with his fans, under one condition.

Picture: Snapchat

According to Genius, the 'Made In The Pyrex' tracklist is:

1. Toxic

2. Gun Man Sound

3. Bluwuu

4. Bringing It Back

5. Bad Guy

6. Wet

7. Woi

8. Chingy (It's Whatever)

What are the lyrics to Digga D's song 'Toxic'?

[Intro]
(Ayo, Trinz)
Look, yo


[Verse 1]
You get it? 'Cause I don't (Nope)
Would you hit it? 'Cause I won't (Nope)
Whole heap of gyal on my iPhone
Influencers that wanna suck my bone
I do it for all of the ni**as that DM these b**ches, and get left on read (Don't worry)
This blue tick make it easy to hit but more time I just get head (Brain)
She wasn't there when I was in jail, she never sent me no mail (Nope)
More time it's footballer d**k that she taking but she love the rappers as well (Rap)
I bucked her in tape, I bucked her in pong, if only if you knew what these models are on (Yeah)
The second that man got recalled, all of these models was gone (Dickhead)
She at my table leeching, takin' snaps and tryna get me in ('Lowe it)
About 1942, your chest too high, is that how you're feeling?
Won't get more than a Magnum and a Magnum for this beating (Yeah)
Ask if me and Shar speaking, it don't make sense 'cause you're still on jeeting


[Chorus]
She said that she seen me on UK Gossip
Cool, we established I'm toxic (Yeah, yeah)
But back to the topic, I know you still wanna slop it (Brain, brain)
The Shade Borough ain't helping s**t but I bet you a jib that I'm still gonna chop it
She said I should cut all my bachelor ways 'cause I'm adding a case to my count, I should stop it
She said that she seen me on UK Gossip
Cool, we established I'm toxic (Toxic, toxic)
But back to the topic, I know you still wanna slop it (Neck it, neck it)
The Shade Borough ain't helping s**t but I bet you a jib that I'm still gonna chop it
She said I should cut all my bachelor ways 'cause I'm adding a case to my count, I should stop it

[Verse 2]
Before I get used by a b**ch (Bitch)
I'd rather wank my d**k (Wank my d**k)
I ain't going out wrong for a trick (Nope)
I'd rather go brothel and hit
I'm a dog, and what? (Yeah)
You go Dubai and suck d**k, you're a thot (Hoe)
But I ain't got a problem with that (Nope)
I love thots, wanna f**k with a yat
This little b**ch said she wan' be a WAG (WAG)
She getting f**ked in the back of the Wag (Of the Wagon)
She see man countin' bands (Bands)
And want ask badman for a bag
Want ask badman for a purse
Want ask badman for some shoes
Want ask badman to eat cooch
But that's not what a badman do (Never)
And she don't got only man (Nope)
She only got OnlyFans (Hoe)
She wanna wear Rollies and (Yeah?)
Cartier bracelets, but fam (Yeah?)
She don't wanna go work, she's wotless
Rather go on IG and get topless
The gyal of today need to stop this (Stop)
Cah that behaviour's just toxic

[Chorus]
She said that she seen me on UK Gossip
Cool, we established I'm toxic
But back to the topic, I know you still wanna slop it
The Shade Borough ain't helping s**t but I bet you a jib that I'm still gonna chop it
She said I should cut all my bachelor ways 'cause I'm adding a case to my count, I should stop it
She said that she seen me on UK Gossip
Cool, we established I'm toxic
But back to the topic, I know you still wanna slop it
The Shade Borough ain't helping s**t but I bet you a jib that I'm still gonna chop it
She said I should cut all my bachelor ways 'cause I'm adding a case to my count, I should stop it


[Outro]
(Ayo, Trinz)