Black Lives Matter UK protests: dates, times, locations & everything you need to know
2 July 2020, 15:55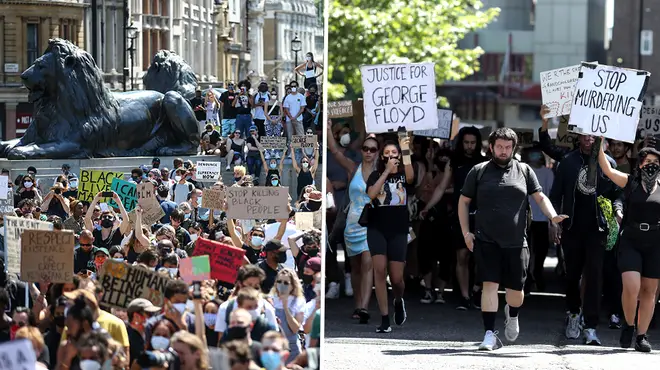 Anti-racism protests are taking place in the U.K, in response to the killing of George Floyd in Minneapolis.
Protests all over the world have been held in response to the killing of an unarmed black man, named George Floyd, by white Minneapolis officer Derek Chauvin.
Police officer Derek Chauvin knelt on George's neck for eight minutes and 46 seconds, despite him pleading the words 'I can't breathe' in a viral video clip.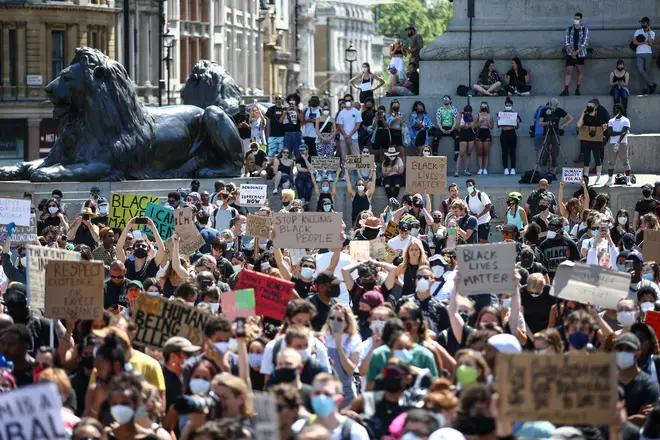 The incident has sparked outrage, pain and solidarity amongst people worldwide, starting with protests across America.
However, considering the fact that racism is a worldwide issue, many other countries have taken the initiative to protest on behalf of black people being mistreated, devalued and subject to injustices.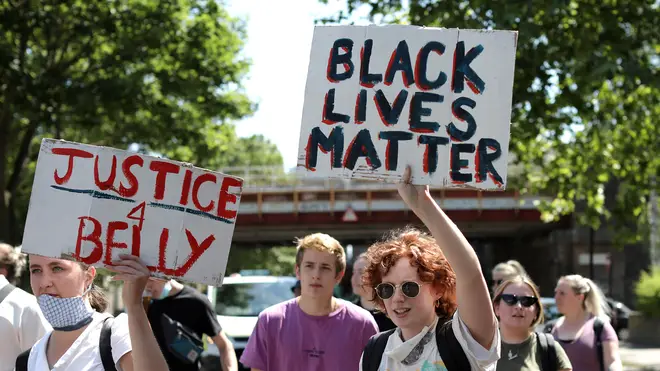 Over the past two weeks protests have now spread across the globe with activists and the general public taking part in Black Lives Matter protests.
See below for a list of when and where UK protests are happening.
Where are U.K protests happening?

Upcoming

Saturday 11th July

Birmingham, Centenary Square, 2pm Justice For Breonna Taylor

Manchester, St Peter's Square, 2pm Justice For Breonna Taylor

Leeds Hyde Park, 2pm Justice For Breonna Taylor

Hull, Queen's Garden, 2pm Justice For Breonna Taylor

Hertfordshire, Stevenage, 2pm Justice For Breonna Taylor

Telford, Town Park, 2pm Justice For Breonna Taylor

Shewsbury Quarry, 2pm Justice For Breonna Taylor

Protests that have happened

There were peaceful protests which went ahead in central London, on June 6th and 7th.

Manchester Saturday, June 6, in Piccadilly Gardens.

Birmingham Thursday, June 4, Victoria Square.

Hull, June 10, Queens Gardens, 1pm

Reading, June 13, Town Hall, 12pm

Kings Lynn - Town Hall, 2pm

Hemel Hempstead – Town Centre, 2.30pm.

Manchester Sunday, June 27th, Platt Fields Park, Fallowfield, from 2pm to 6pm

UK Black Lives Matter Twitter account clarified they are not affiliated with the planned protests in London.

Their post read 'We have no affiliation with the #LDNBLM group and any of the BLM London accounts.'

We stand in solidarity with all those whose hearts feel broken from the news of the killing of #GeorgeFloyd, and from hearing that the police have decided to take no further action in the case of #BellyMujinga , out on the streets, or at home.

— #BlackLivesMatterUK (@ukblm) May 30, 2020

They continued 'We are currently discussing the implications of calling a mass march in the middle of a pandemic that is killing us the most. Solidarity with our fam & siblings across the Globe.'

When are the London protests being held?

Despite UK Black Lives Matter announcing they are not hosting protests, #LDNBLM group have taken their own initiative and have decided to schedule protests in the U.K.

On Sunday (May 31st) a protest began at 1PM from Trafalgar Square.

U.K celebrities such as Dave, Mahalia Ms Banks, Jammer and more attended the #LDNBLM protest on Sunday.

Since then, there has been several protests. Find out when they happened and when they are happening below.

Upcoming BLM protests

Sunday 5th July, Marble Arch, 2pm All Black Lives Peaceful Protest

Saturday 11th July, London US Embassy, 2PM - Justice For Breonna Taylor

London BLM protests that have happened

Monday 1st June, Windrush Square to Marble Arch, 1PM

Wednesday 3rd June, Hyde Park, 1PM

Saturday 6th June, Parliament SQ, 1PM

Sunday 7th June, US Embassy, 2PM

Wednesday 10th June, Green Park, 1PM

Friday 12th June, Hyde Park, 2PM

Friday 12th June Marble Arch to Downing Street, 1PM

Saturday 13th June, Newington Green Roundabout, 2PM-6PM

Saturday June 20th, Parliament, 2PM

Saturday June 20th, Hyde Park Vauxhall, 1PM

Sunday June 21st, Hyde Park 2PM

Saturday June 27th, Black Trans Lives Matter, Wellington Arch 2PM to Downing Street

Saturday June 27th, March for Shukri Abdi, from Hyde Park to the Department of Education, 1PM

Please try to self isolate for 2 weeks if you do decide to go to any of the peaceful protests this week. It's very vital for the safety and well-being of your household and to prevent further spread of COVID-19. pic.twitter.com/5fqH8nal04

— ldnblm (@ldnblm) May 31, 2020