J. Cole, Ariana Grande, Dave and more protest in response to George Floyd's death
1 June 2020, 11:52 | Updated: 1 June 2020, 15:12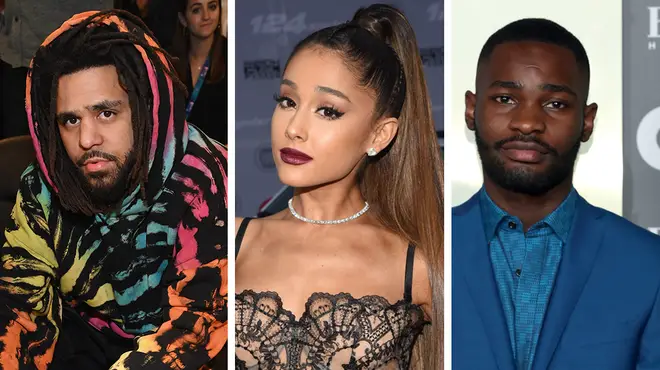 Celebrities around the world have come together to fight against racism and police brutality, after the recent killing of George Floyd.
The death of George Floyd at the hands of white Minneapolis police officer Derek Chauvin, has sparked outrage across the world, leading many celebrities to come together to fight for justice.
Whether celebrities have taken to social media to raise awareness, speak out on their personal experiences of racism, or to call for justice of George Floyd – showing their solidarity and support, has had a massive impact on the black community.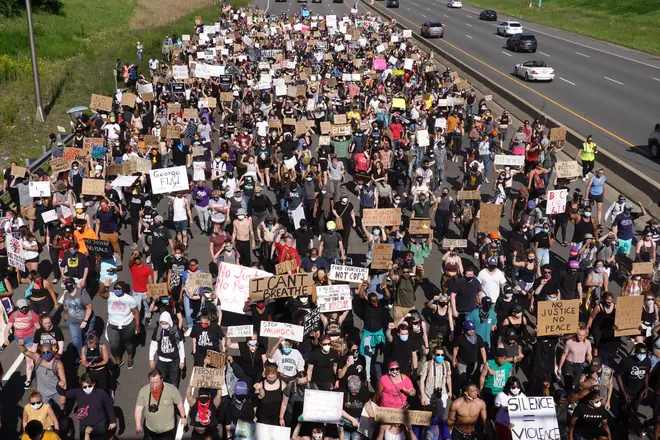 Many celebrities are actively seeking justice in the streets, protesting amongst the nation of people.
Making it clear that it is not just an U.S issue and police brutality and racism exists in the U.K also, U.K celebrities have also taken part in London protests for #BlackLivesMatter.
The anti-racism protests are urging celebrities such as J.Cole, Ariana Grande, Dave, Ms. Banks and more to fight for justice.
See list of American and U.K celebrities protesting against racism and fighting for black people's rights, as well as justice for George Floyd.
J.Cole

J. Cole took the streets in solidarity with the nation during the anti-racism protests in his hometown of Fayetteville, North Carolina.

J. Cole has joined the protest in downtown Fayetteville, NC. So remember all the rappers who were out here donating and supporting when its time to buy albums. pic.twitter.com/OjJWRLFtJy

— OBJ said ask about him (@evelynvwoodsen) May 30, 2020

Another fan chimed in on the photo of J.Cole protesting, writing: "J. Cole has always been one of the realest, most genuine artists – not just through music, but through action,".

Tinashe

R&B Singer Tinashe also shared a photo of her protesting in Downtown Los Angeles with a Black Lives Matter sign in her hand, on the streets.

On her Instagram stories, Tinashe shared videos of protesters climbing the divider of a freeway.

The "2 On" singer also shared photos of 5th Street and Grand Avenue, showing police in riot gear.

Taking to Instagram, Tinashe wrote "The protest I participated in yesterday in DTLA was non violent," she wrote.

She added "We were there to protest police brutality and black lives, period."

Nick Cannon

The Wild 'N' Out host and rapper Nick Cannon shared several photos of himself protesting in Minneapolis.

He wore a T-shirt which read "Please I can't breathe," which echoed Floyd's words in the video of his arrest.

"BUT THEY GON HEAR US LOUD AND CLEAR!!!" Cannon captioned his Instagram post

Machine Gun Kelly

Machine Gun Kelly took to Instagram and shared a photo of himself in the crowd protesting.

The "Bloody Valentine" rapper is pictured holding up a sign that reads "Silence Is Betrayal".

Ariana Grande

International pop star Ariana Grande also attended the protests and called out the media for the coverage of the violent protests, without reporting on peaceful protests.

Tinashe responded to Ariana's tweet, saying "THE MEDIA DONT WANT YOU TO SEE THE PEACEFUL PROTESTS"

Kehlani

Singer Kehlani shared black-and-white photos of the scenes at the protest in L.A.

Miguel

Miguel has taken to Instagram to share a video of a crowd chanting for justice while he was protesting in L.A.

Ray-J

Singer and Love & Hip Hop star Ray-J pulled up to the protests in his Rolls Royce.

Dave

South-London bred rapper Dave took part in the U.K protests in London over the weekend.

On the 31st May, protests took place in London. starting from Trafalgar Square, where many marched for justice for George Floyd.

The #ldnblm protests began to show we're supporting and marching in solidarity to tackle racism all over the world.

Mahalia

U.K singer Mahalia also took part in the London protests against racism.

Mahalia takes to the London streets protest against racism.

Picture: Instagram

Ms Banks

Ms Banks took to instagram to share a photo of her holding up a 'Black Lives Matter' sign at the London anti-racism protests.

Banks captioned the photo "No justice no peace, no racist police. ✊🏾 #blacklivesmatter#justiceforgeorgefloyd #ldnblm"

Jammer

BBK founder and grime pioneer Jammer took to the London streets to fight for justice.

Taking to Instagram, Jammer posted a photo of a post that read 'How many black sons must we mourn'