AOC Met Gala 2021 'Tax The Rich' dress controversy explained
14 September 2021, 16:04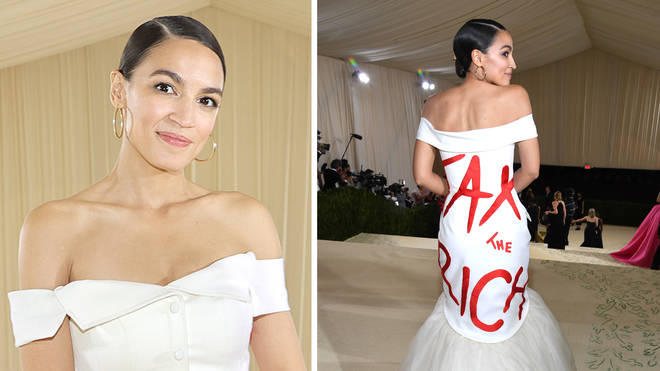 The socialist democrat rep has been criticised for being 'performative' and 'hypocritical' for wearing her political statement dress.
Alexandria Ocasio Cortez has been accused of being a 'hypocrite' and has faced backlash after wearing a political statement dress at the prestigious Met Gala.
The 31-year-old socialist democrat attended the fashion's biggest night with her boyfriend Riley Roberts, after getting dressed at The Carlyle Hotel on the Upper East Side. 
But why are people criticising her online? Here's everything we know.
Why is AOC receiving backlash online for her Met Gala dress?

AOC got slammed online after wearing a dress which read the words 'Tax The Rich', even though she was at an elitist event, where each ticket is reportedly $35k.

On Tuesday morning, AOC boasted about the surge in Google searches for the words 'tax the rich'. 

Alexandria Ocasio-Cortez at the 2021 Met Gala. Picture: Getty

Taking to Instagram, AOC wrote: 'Surge in people looking up and discussing our f****d up tax code is and how we fix it so we can fund childcare, healthcare, climate action and student loan forgiveness for all? Aurora James understood the assignment.'

However, she has been slammed online for supporting the event, with people claiming she wanted to be in the limelight while trying to pass it off as making a political statement.

Some people claimed that she it was another way she has shown her tone-deaf hypocrisy. 

One fan wrote: "AOC's "Tax the Rich" dress is $1,000. Worst yet, she's wearing it to an event selling tickets for $30k.

This is a perfect illustration of why Americans are fed up with virtue signaling politicians more concerned with admission into elitist circles than working for the people."

Another fan wrote: "AOC (hypocritically?) wore a "tax the rich" dress to a fancy event while also advocating legislation that would tax the rich."

See other tweets below.

What have people said in AOC's defence?

People have taken to social media to defend AOC claiming she intentionally wore the dress so people would support the movement.

One fan wrote: "AOC has everyone repeating "tax the rich" today and people are confused why she went?"

Another Twitter user wrote: "This isn't a slogan. It's an imperative. Regular folks are drowning in debt. They can't afford medicine. They can't send their kids to college.

For too long, the 1% has insatiably amassed obscene fortunes on the backs of workers.

@AOC is right. Tax the rich. #BuildBackBetter.".

What has AOC said?

AOC revealed that she went for free to the event and she felt a sense of responsibility to make a statement as an elected official. 

'The Met Gala is seen as elite and inaccessible...As a working class woman, [I] wanted to enjoy the event but also break the fourth wall and challenge the industry,' she told Vogue at the event. 
Let us know your thoughts @CapitalXTRA