Anthony Joshua Vs Tyson Fury fight: Date, tickets, venue & more
14 May 2021, 17:31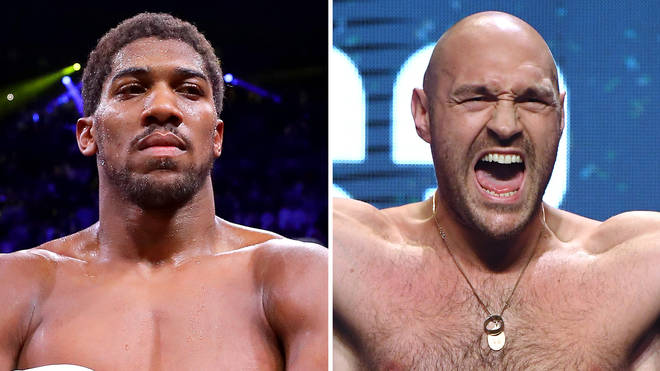 When will the fight take place? Where will the boxing match be staged? Here's everything we know about the "super fight"...
Anthony Joshua and Tyson Fury have officially signed a deal for their highly-anticipated world heavyweight title fight.
The two British boxing rivals have been negotiating on the fight for months, but the terms have now been settled and confirmed by Joshua's promoter, Eddie Hearn.
Two-time unified world heavyweight champion, Joshua, will put his WBA, IBF and WBO belts on the line against WBC champion Fury this year.
Hearn confirmed the fight, telling Sky Sports: "All parties have now put pen to paper and we will be working hard over the next few weeks to confirm the site and date for the biggest fight in boxing."
The two fighters have agreed to a 50-50 split in the purse with 'nothing getting in its way', according to promoter Frank Warren.
Fans are wondering when and where will the fight happen. Find out more details on the upcoming boxing match below.
When is the Anthony Joshua Vs Tyson Fury fight happening?

Anthony Joshua and Tyson Fury have finalised a date for their fight.

According to Eddie Hearn, the fight will take place on August 14 in Saudi Arabia.

The fight was described as "a done deal" by Hearnalthough it is yet to be officially confirmed by both sides.

With a training camp already under way, Joshua also admitted he is relishing a massive showdown with Fury.

"[The pandemic] is getting close to things being normal. We're working on a date for around June," he said.

Anthony Joshua was ranked as the world's second best active heavyweight by The Ring in April 2020. Picture: Getty

Joshua continued "So if Tyson is serious, which I think he is, he'll know where to come and find the boss! I'm ready."

"I'm really looking forward to competition - all I want to do is fight, fight, fight!"he added.

While there is no official date for the fight yet due to the uncertainty of the pandemic, it is likely happening this summer.

Joshua holds the WBA, WBO and IBF belts, while Fury has the WBC title.

Picture: Getty

Where will the fight take place?

The fight will be taking place in Saudi Arabia. Hearn has revealed that the boxers teams are searching for a good venue for the fight to take place.

Hearn told Sky Sports: "They want to build a new stadium," about the hosts in Saudi Arabia. "They have indoors options. In August at 11pm it will be about 23 degrees."

"Spartan."

I'm tired.
My fans are tired.
Your fans are tired.

We're all tired of the talk.

Less talk. More action!@Tyson_Fury.

— Anthony Joshua (@anthonyjoshua) May 10, 2021

"They want to create something very, very special. Last time they built a stadium for the Andy Ruiz Jr fight in just seven weeks and it held 18,000.

Prior to the fight being confirmed to happen in Saudi Arabia, a variety of potential venues were being considered to host the fight, including; Saudi Arabia, Singapore, Qatar, China, Dubai, America and the UK.

However, Joshua did not seem phased by the location, as he told Sky News: "Any option. Home turf, Middle East, my back garden, your back garden. I don't mind where it is.

"I'm just ready to fight. I want that belt. I want to compete with Fury so all options are open to me."

Eddie Hearn said: Hearn told Sky Sports: "It will be a major, major win for a country that wants to showcase itself,"

He continued: "We want to make sure this fight goes ahead for both fighters."

Anthony Joshua's promoter Eddie Hearn brands this fight as his "biggest fight" yet. Picture: Getty

"Both camps have a responsibility to maximise the revenue for their biggest fight - this is the pinnacle of their careers, the biggest moment, nothing will ever beat it."

"At the same time, we all recognise this is two Brits fighting for the undisputed championship of the world. If there is a way to do it in the UK? Fantastic." Hearn added.

Where can I buy tickets to the Anthony Joshua and Tyson Fury fight?

The ticketing information for the Anthony Joshua vs Tyson Fury bout is currently unavailable as both parties just agreed on a deal.

More information on where to purchase tickets will become available once the fight venue is decided.

We will update this article accordingly.