WATCH: Tekashi 6ix9ine's Awkward Sex Shop Commercial Surfaces
11 February 2019, 15:23 | Updated: 11 February 2019, 15:31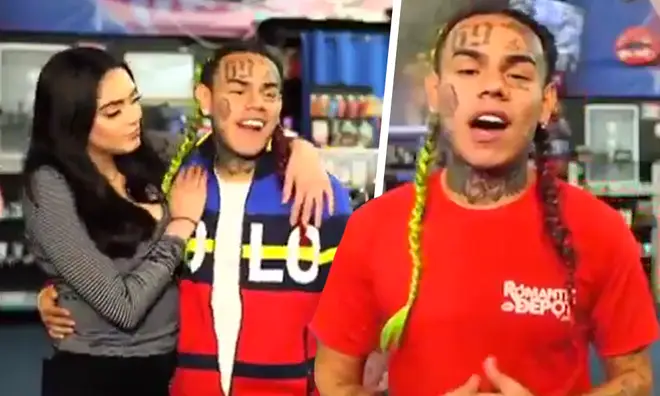 6ix9ine appeared in a commercial for New York sex shop Romantic Depot before he was arrested and the footage has leaked online.
Tekashi 6ix9ine has been making headlines recently pleading guilty to a number of gun charges and other crimes, whilst his baby mama has claimed 'he raped her and beat her up' - but now a video has emerged showing the 'Dummy Boy' rapper in an advert for a sex shop.
Promoting the New York sex shop Romantic Depot, 6ix9ine plays the role of a boyfriend looking to "spice things up" with his girlfriend whilst also learning "how to treat women with dignity and respect".
Tekashi 6ix9ine Romantic Depot Commercial
As you can see in the video above, 6ix9ine is sporting his famous rainbow coloured hair, whilst also wearing a special 6ix9ine themed Romantic Depot t-shirt.
With the video aiming to promote the New York sex shop whilst also trying to help prevent violence against women, 6ix9ine can be heard saying "Thanks to Romantic Depot I now know how to treat women with dignity and respect".
6ix9ine also states, "When I was younger I used to make a lot of stupid mistakes, but I'm ready to learn more".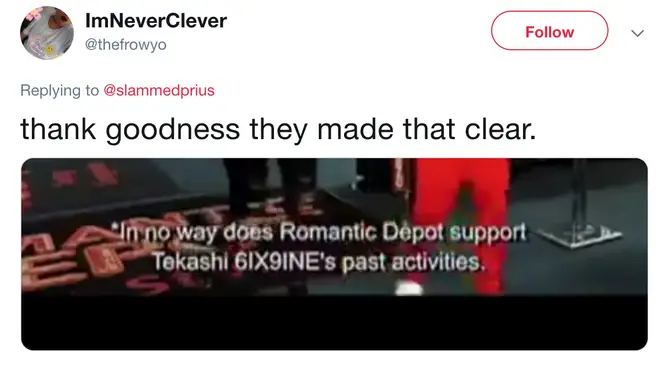 In the commercial, Romantic Depot also attempted to diassociate themselves from 6ix9ine's alleged criminal activities by adding a written disclaimer to the beginning of the video.
The disclaimer reads, 'In no way does Romantic Depot support Tekashi 6ix9ine's past activities'. The company are yet to release a statement about the footage or when it was filmed.
6ix9ine is currently in jail awaiting trial for a number of alleged crimes, some of which he has now pleaded guilty to.
> Download Our Free App For All The Latest 6ix9ine News!