50 Cent Brutally Trolls Tekashi 6ix9ine And 21 Savage With Instagram Meme
6 February 2019, 10:33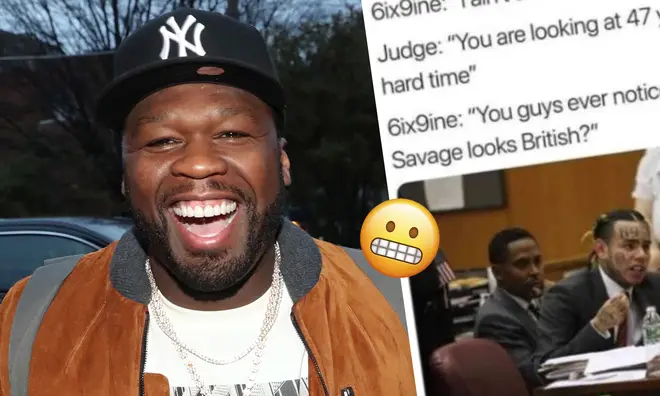 The 'Get Rich Or Die Tryin' rapper took aim at 6ix9ine following his plea deal and rapper 21 Savage, who remains incarcerated as a result of ongoing immigration issues.
50 Cent took a swipe at his self-proclaimed 'son' Tekashi 6ix9ine and rapper 21 Savage amid their ongoing legal battles.
6ix9ine currently sits behind bars awaiting trial for multiple counts of racketeering and weapons charges - nine of which he pleaded guilty to last week - and has been accused of 'snitching' on his former associates.
Meanwhile, 21 Savage is being held in federal custody after his recent arrest on immigration charges, as officials claim that he is a British citizen unlawfully residing in the U.S.
Taking to Instagram, Hip-Hop's resident troll 50 Cent posted a meme which mockingly suggested that 6ix9ine had ratted on 21 Savage after being threatened with a lengthy jail sentence.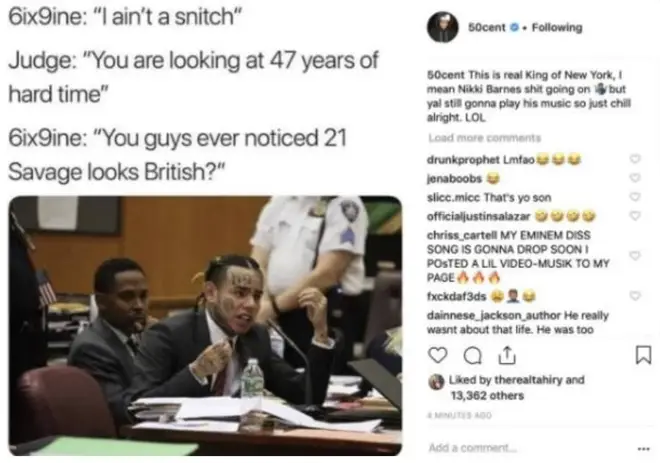 "This is the real King Of New York," he captioned the image, which has since been deleted. "But ya'll still gonna play his music so just chill alright. LOL"
Fif has made a habit of trolling 6ix9ine in the past, whilst frequently referring to the 'DUMMY BOY' rapper as his biological son. The rapper has a tumultuous relationship with his actual biological son, his eldest, Marquise.
In related news, 21 Savage is reportedly being held in lockdown for '23 hours a day' with no television access and little contact with the outside world following his arrest.
Artists including Cardi B, J. Cole, Migos, Nicki Minaj and more have all spoken out in support of the 'Bank Account' rapper.