Fat Joe Tries To Warn Tekashi 6ix9ine In Foreshadowing Interview Before His Arrest
20 November 2018, 16:17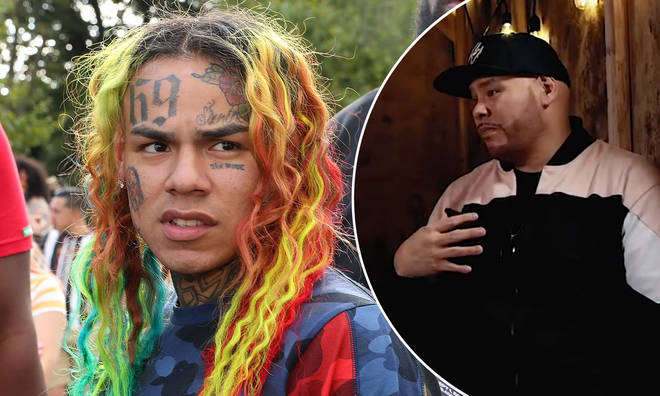 The 22-year-old rapper has been arrested on RICO charges, and has reportedly been denied bail. In an interview from February 2018, rapper Fat Joe offered 6ix9ine a warning on the crew he surrounds himself with.
Tekashi 6ix9ine is currently facing a life sentence on RICO and racketeering charges after being arrested by the FBI this weekend.
The 22-year-old rapper, real name Daniel Hernandez, was denied bail and is allegedly facing time in Brooklyn's notoriously dangerous Metropolitan Detention Centre, in the general population area.
And while the 'GUMMO' rapper's future currently hangs in the balance, an interview with Hip-Hop veteran Fat Joe dating back to February this year suggests his life could have taken a very different route.
On his podcast 'Coca Vision', Joe sits down with the rainbow-haired 6ix9ine to discuss his life, career and music, while imparting some valuable words of wisdom on the young star.
"You're a young dude, you're banging... can you control your friends?" Joe asks his fellow New Yorker, who wasn't arrested alone. His former manager and two of his affiliates were also taken into custody and are facing charges.
"I can't control nothing my team does," responds 6ix9ine. "They're grown men. They do what they gon' wanna do." Watch the interview below from around the seven minute mark.
"You see what happened to Bobby Shmurda," Joe said of the incarcerated rapper, who collaborated with 6ix9ine before heading behind bars. "One million percent, they are plotting you on. You got a lot of energy around you."
"Do you wanna be successful? Do you wanna be the king? Do you wanna be rich? Do you wanna take care of your family?" Joe asked. "One move, and they're gonna try to throw you in there. Big time. Do you understand this?"
"I ain't doing nothing, man. I'm just talking about sh*t," 6ix9ine shrugs. "We don't go out there looking for trouble, we address it."
"I want you to know that people are watching. Some people love you, the youth they love you!" Joe replies. "But I want you to be careful and just know that there's people out there, and they're out there to hurt you."
"I gotta tell you that we need you. I need the leaders of the new school to make it," he said. "We all went through sh*t, we all went to jail. You don't have to!"
"Time is the most crucial thing in life. That's why they take that from you." Fat Joe is yet to publicly respond to Tekashi's recent arrest, after it was revealed that he will remain in custody until his court hearing.