Fat Joe Would Rather "Die Before Taking A Picture" With Former Friend Tekashi 6ix9ine
14 March 2019, 12:28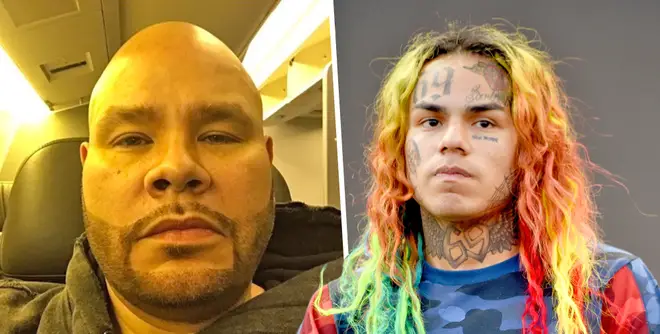 Rapper Fat Joe told Angie Martinez that 6ix9ine had "crossed the line" and that he now can't be friends with him after labelling him a "snitch".
Before Tekashi 6ix9ine was famously arrested on a number of charges including racketeering, fellow rapper Fat Joe had warned him that his gangster lifestyle would land him in trouble - and now the 'All The Way Up' rapper no longer wants to be friends.
Speaking with Angie Martinez about his feelings about 6ix9ine since it was revealed that he had been cooperating with the police as part of the investigation into different alleged crimes, Fat Joe stated "he can't come round me again".
Opening up about the situation, Fat Joe said, "I thought he was a nice guy, and now he can't be my friend, he can't come around me ever again. Those are rules. He crossed that line. I don't even understand if I go to the club and they play his song, I'm keepin it a buck. I pray for people who cross that line - when they talk to the police and they snitch, I pray for them."
After claiming young kids don't care about the gangster code that he follows, Fat Joe added that h would "die before you see me in the picture with Tekashi 6ix9ine."
Not stopping there, Fat Joe went on to say that he felt DJs shouldn't be playing Tekashi 6ix9ine's music in clubs knowing that he's worked to help the police whilst in jail.
He stated, "I'm looking at what alleges to be street guys or gangsters, allegedly we think, hustlers, drug dealers singing the guy's lyrics in the club knowing the guy's on the daily news talking about he spilled the beans. It's crazy to me."
Tekashi 6ix9ine is currently in jail awaiting a trial which is set to take place at the end of 2019. If convicted of the charges against him he could remain in jail for almost 50 years.
> Download Our Free App For All The Latest Tekashi 6ix9ine News!