Nicki Minaj and Tom Holland: Viral dating joke explained
5 July 2021, 17:30 | Updated: 24 December 2021, 12:17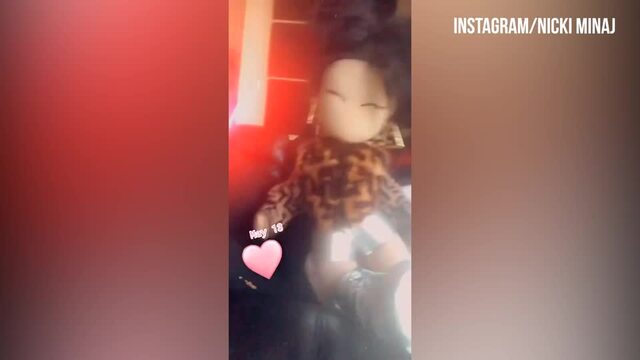 Nicki Minaj jamming to her Say So remix with Doja Cat
Did Nicki Minaj and Tom Holland date? What actually sparked the relationship rumours?
Nicki Minaj announced her pregnancy in July 2020 with several baby bump photos on Instagram, and gave birth to her son in September of that year.
While the exciting news was a pleasant surprise for Minaj's overjoyed fans, another surprising moment came when Spiderman actor Tom Holland became trending in association to the star's pregnancy.
Why? Because some people thought Tom Holland - who is currently dating his co-star Zendaya - was the father of Nicki's baby.
But what actually happened? And did Nicki Minaj and Tom Holland really date?
What happened between Nicki Minaj and Tom Holland?

Nicki Minaj revealed that she was expecting a baby on Instagram in July 2020.

The "Chun-Li" rapstress posted a photo of her baby bump and captioned it "#Preggers".

The star then uploaded a photo of herself with a bright yellow wig, embroidered underwear and high heels.

Minaj captioned the third photo: "Love. Marriage. Baby carriage. Overflowing with excitement & gratitude. Thank you all for the well wishes."

Why was Tom Holland trending?

After Nicki Minaj made the pregnancy announcement, English actor Tom Holland started trending on Twitter alongside the star.

Holland is most known for playing the role of Spiderman in the Marvel series of the same name.

People jokingly began making memes suggesting that Holland was Nicki's child's father.

However, Nicki actually welcomed the baby with her long term husband Kenneth Petty.

Did Nicki Minaj and Tom Holland date?

No, Nicki Minaj and Tom Holland never dated and they were never in a relationship.

The "Superbass" star married her childhood sweetheart Kenneth Petty in 2019 and they welcomed their first child together in October 2020.

But in 2019, a Tom Holland stan account @tomnetherlands shared memes suggesting Tom used to date James Charles, but is now in love with Nicki.

The news quickly spread, with many fans making hilarious memes alluding to Minaj and Holland dating.

One fan joked "If Tom Holland and Nicki Minaj ever break up that's the day love dies."

Nicki Minaj and Tom Holland joke explained

The Nicki Minaj and Tom Holland joke stemmed from a post in April 2019, depicting an alleged love triangle between Minaj, the Spider-Man actor and James Charles.

The rumour was just an internet joke that gained huge traction online.

Many people started playing along with the joke, acting as if Tom really was the father of Nicki's baby.

What has Tom Holland said?

In February 2021, Tom Holland addressed the Nicki Minaj dating rumours during an interview with Esquire.

He told the publication""This actually really stressed me out. And then I saw it was Nicki Minaj, and then I realized I've never met Nicki Minaj, so that was a big relief for me."

" Because I'm not ready to have kids. I'm not even ready to have a dog, properly," Holland said about the internet joke.

What were the Nicki Minaj and Tom Holland memes?

Who is Tom Holland actually dating?

Tom Holland and Zendaya have confirmed their relationship as the "Spider-Man" co-stars shared a steamy kiss in Los Angeles on Thursday.

The couple were spotted packing on the PDA at a red light during a sunset drive in Holland's $125,000 Audi sports car.