Nicki Minaj Responds To Nas Relationship Rumours On Ellen - WATCH
24 May 2017, 11:17
Nicki Minaj Responds to Nas Dating Rumors
03:59
The rapper also announced she is currently "celibate".
Nicki Minaj has responded to rumours claiming she is currently dating Nas.
During an appearance on The Ellen Show, the 'No Frauds' rapper was questioned by DeGeneres on her relationship status with the Hip-Hop star.
"There's a rumour y'all are dating, and if it's true, I'm all for it," said Ellen.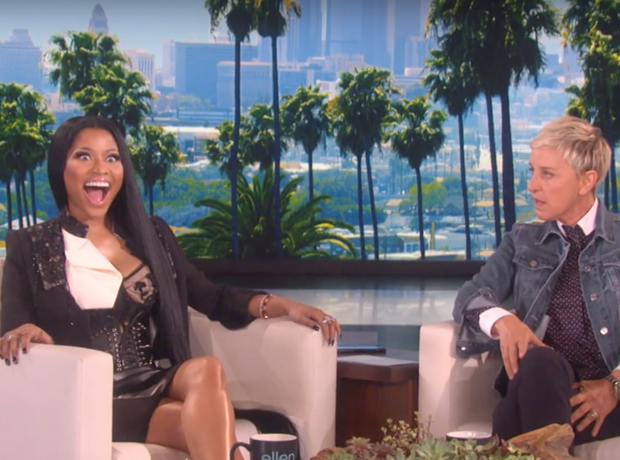 "He's so dope," confessed a blushing Minaj, "He's the king."
"He is the King of Queens," she continued, in reference to the New York City borough that the pair share as their hometown, "...and I'd like to think I'm the Queen of Queens."
Minaj later called Nas "a rap legend," mentioning to Ellen, "I have a lot of respect for him. And, you know, he's kind of cute, too."
The 'Anaconda' star sparked rumours of a possible relationship with Nas after posting a photo of the pair cuddling on Instagram.
When DeGeneres questioned whether or not the pair had had "sleepovers", Nicki replied with "We have. Yup."
"I go to him." she continued, "I just thought him coming to me was too forward."
However, Minaj denied doing the "nasty" with the rapper after Ellen posed more personal questions during the interview, claiming she is now "celibate".
"I'm just chillin' right now. I'm celibate. I wanted to go a year without dating any man. I hate men," Minaj said.
Minaj split up with her now ex-boyfriend, and fellow rapper, Meek Mill, earlier this year after a highly publicised break-up.
The 'DC4' star allegedly took back a diamond ring he gifted Nicki, before proposing a $5 million fight with Drake.