Nicki Minaj and the City Girls beef explained
3 February 2022, 14:56 | Updated: 4 February 2022, 14:30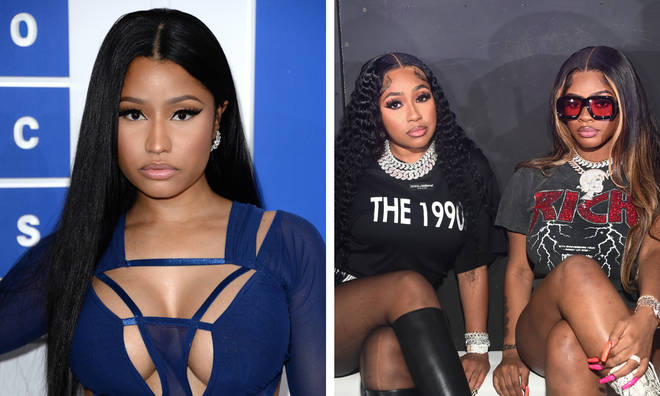 What did the City Girls say about Nicki Minaj? What were the tweets? Here's what went down...
Nicki Minaj and the City Girls have finally made up after years of back and forth beefing.
Following Nicki's revelation on The Morning Hustle with Headkrack and Lore'l, where she explained that she would never work with the girls due to their previous disses about her, it seems the girls have put the pettiness behind them.
From diss tracks to old tweets, here's the complete history what went down between Nicki Minaj and the City Girls.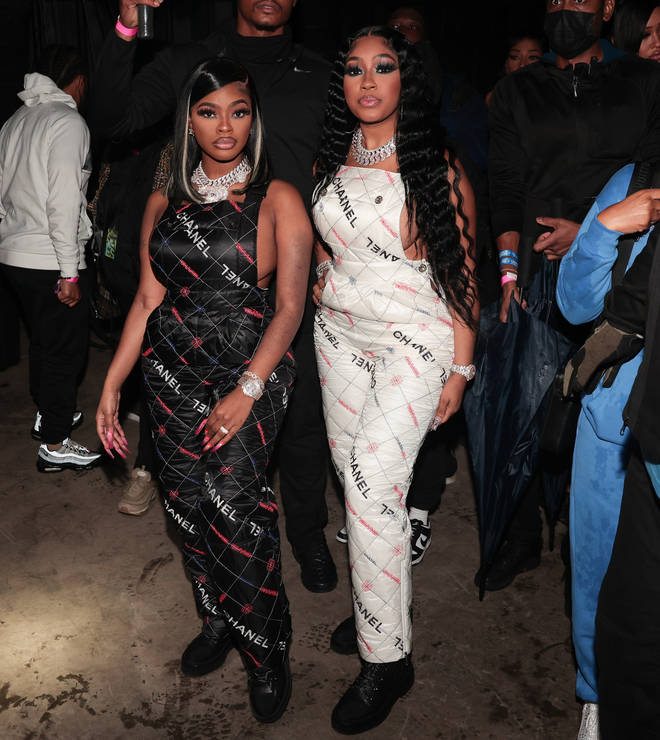 Nicki and the City Girls squash the beef (2022)

Hours after clips from Nicki's interview with Headkrack and Lore'l on The Morning Hustle radio show went viral, the queen of rap claimed that she had a conversation with JT and Caresha; squashing the beef ready to move on.

"Just had a great convo with @ThegirlJT & @YungMiami305. Let's move on & make new memories y'all. 🦄" she tweeted.

JT quoted Nicki's tweet saying: Sag sister! ❤️ thank you for your time, your advice! A true queen…love you!", whilst Yung Miami quote tweeted it saying "Queen Tingz 🦄💕".

Awww!

Nicki addresses the beef in new interview (2022)

Whilst doing promo for her latest single 'Do We Have A Problem', Nicki stopped by The Morning Hustle radio show with Headkrack and Lore'l to discuss new music and more.

When Headkrack asked Nicki whether or not she would hop on a track with City Girls as its clear that they are fans of hers, the rapstress revealed that she won't be working with City Girls.

Going into detail explaining that JT and Yung Miami's old tweets and videos dissing her were brought to her attention after she was eager to jump on one of their songs, she answered:

"Well… I don't know. What I will say is that, a few years ago I saw a video of them and I asked someone on their team at the time about them. I was thinking about jumping on a record, one of their records that was out at the time. And then… social media happened".

She then elaborated on her point saying: "And the thing is whenever you post something on the internet, it's there forever. Whenever you say something in an interview, it's there forever".

"So, as an artist and a human being first, if I, as just a regular human, was about to go to dinner with you tonight and then I get something that says, 'Yo, she don't really fuck with you like that, she was saying this and she don't really like you, and she said she hopes you actually never pop or never flourish'... i'm not gonna go out to dinner with you anymore because now I know that I like you, but you don't really like me".

Understandably, feeling like the City Girls don't like her, she continued to point out that's why she will not be working with them.

"That's just a human way to feel, if you hear somebody was saying things about you—not just one thing—but repeated things, repeated tweets for years, not just one thing".

When presenter Lore'l added "It's hard to let that go", Nicki calmly responded: "It's let go. It's let's go, but it's about, why would I work with somebody who doesn't like me?"

Nicki blocks Yung Miami (2021)

In a not-so-shocking turn of event, Yung Miami took to Twitter asking the queen of rap to "unblock her" after she discovered that she was indeed blocked in a tweet that read: "Can you unblock me on Instagram @NICKIMINAJ ?".

Fans quickly called out Yung Miami for her tweet, calling her 'delusional' whilst reminding her of her previous comments about Nicki, adding the clip of her saying she's team Cardi when she appeared on the Breakfast Club.

She responded by tweeting: "I'm not obsessed, desperate, none of that fr I just asked her to unblock me I ain't do shit! Tf. Only thing I'm delusional, crazy, or obsessed about is the nigga I'm fucking that's it. Dick & my money".

JT hopes to get Nicki collab one day (2021)

When Yung Miami and JT did an video interview with GQ magazine last August, JT mentioned that they are hoping Nicki will collage with the soon saying:

"We're hoping for it in the future, seriously. A lot of people try to make fun of it, like, 'Ahhh, you're never going to get your feature,' but you never know what can happen".

JT's old tweets resurface (2020)

Back in December 2020, Twitter users found some old pre-fame tweets from JT taking aim at Nicki. In the now-deleted tweet, she wrote:

"Nicki feels she really run sh*t h** please I want cardi to take completely over push that b*tch to the back. Nicki overly happy on IG Beyoncé not saying nothing, chill out girl. the song good tho but calm down".

JT at the Annual Mega Friday Night Live Ladies Lounge With City Girls in 2021. Picture: Getty

She then posted on her IG story that her new Twitter handle was @fuckyallbitch11, jokingly bringing up her old tweets by saying:

"Nah all jokes aside stop searching them tweets cause I don't feel like slapping a b*tch back into the same year I was talking about them in!".

Yung Miami addresses 'diss track' aimed at Nicki being leaked (2019)

Yung Miami and JT were caught up in a surprise rap feud when the diss track resurfaced of the two taking aim at a number of other female rappers in the game, including Nicki and Cardi leaked online.

In the video, JT can be heard freestyling disrespectful lyrics that was recorded as part of a Facebook live several years ago where she raps, "I don't f*ck with Nicki, I don't care, I'm beefing with Nicki".

Defending her best friend, Yung Miami took Instagram live and said:

"We was playin' around freestylin' on a beat. We never thought nobody was finna hear that s*it. We ain't ever think we was gonna get signed. We never thought none of that. Y'all bitches aggravating as f**k. You want to end the City Girls so bad but it ain't gonna happen".

Yung Miami disses Nicki on The Breakfast Club (2018)

Back in 2018, Yung Miami appeared on The Breakfast Club solo as JT was in prison serving a sentence for credit-card fraud. When asked by Charlamagne Tha God if they would ever work with Nicki, Yung Miami answered:

"I just want to stay away from that question, like, I don't want to get into that but I am team Cardi, City Girls is team Cardi, Cardi supports the City Girls. We don't have to ask. We'll just wake up and see she tweeted about City Girls like, she really loves City Girls".

"I'm Team Bardi... period" she added.