Yung Miami Addresses Surprise City Girls' Nicki Minaj And Cardi B 'Diss Track' After Leak
30 August 2019, 12:23 | Updated: 30 August 2019, 12:25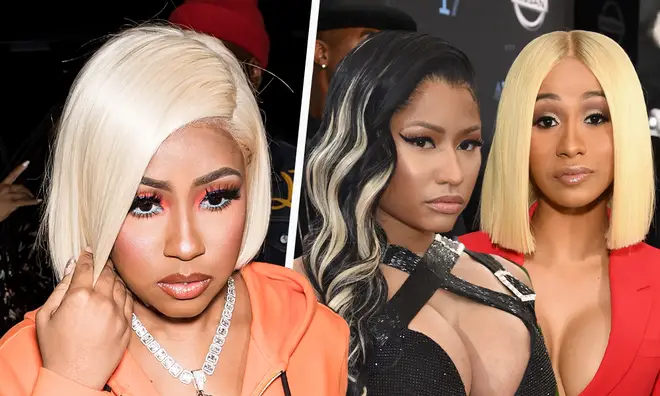 City Girls rappers Yung Miami and JT found themselves in a rap controversy as a diss track aimed at Nicki Minaj, Cardi and other female rappers leaked online.
City Girls duo Yung Miami and JT have become caught up in a surprise rap feud as a diss track taking aim at a number of other female rappers in the game, including Nicki Minaj and Cardi B leaked online.
A video showing JT, who is currently in jail, rapping lyrics calling out Nicki and Cardi resurfaced online after it was recorded as part of a Facebook live several years ago and pregnant raper Yung Miami has spoken out to defend her City Girls' partner's words.
.@ThatSoBeyonces you tried it again. You ripped the audio from a PLAYFUL DRUNK FACEBOOK LIVE THAT DATES BACK TO WHEN THEY WEREN'T EVEN FAMOUS and called it a "diss from jail". I don't know how many times I gotta warn you. Trust me, shut up. pic.twitter.com/ISKWSDhQkc

— UPPER BAWDY 🅴 (@upperbawdy) August 29, 2019
In the diss track above, JT can be heard rapping lyrics which include, "Cardi B? Cardi B had 'Love & Hip Hop' to help her. We ain't got 'Love & Hip Hop. If you keep talking, I'ma diss Cardi. I don't mind dissing a f***ing b*tch."
Early reports suggested that JT had recorded the diss track from prison, but that later turned out to be untrue as the original footage was revealed.
Defending her City Girls pal, Yung Miami took to Instagram and said, "We was playin' around freestylin' on a beat. We never thought nobody was finna hear that s*it. We ain't ever think we was gonna get signed. We never thought none of that. Y'all bitches aggravating as f**k. You want to end the City Girls so bad but it ain't gonna happen."
Cardi B and City Girls have a joint track together called 'Twerk', so that apparent diss has come as something of a surprise for fans, however Yung Miami's explanation should make sense of that.
Neither Cardi or Nicki Minaj have responded to the resurfaced diss and given the fact that Yung Miami has admitted the City Girls duo were just "playin around" it seems unlikely that things will escalate further.
> Download Our Free App For All The Latest Music News!