Nicki Minaj Calls Eminem Her 'Husband' After Revealing Details Of Her Love Life
3 September 2018, 11:47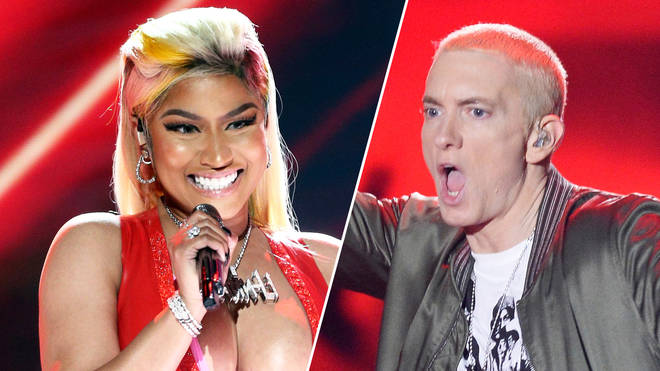 The rapstress lifts the lid on her current romantic situation.
Nicki Minaj has raised eyebrows by hailing Eminem as her "husband".
The 'Queen' rapstress, who was romantically linked to the rapper earlier this year, took to Instagram to promote Shady's new album 'Kamikaze' while referring to him as her other half.
"Lemme keep it 100, two things shouldn't be your themes of discussion!!!" she began. "The QUEEN & HER HUSBAND, last thing you're gonna wanna be is our subjects, YEAH."
"Wait. Your husband?" wrote one fan, while another added "I think you would be a cute couple!"
Back in June, Eminem ignited rumours that the pair were more than friends after shouting her out on stage, saying "Nicki! Let's do this! We go together."
The rapstress playfully reciprocated in a series of back-and-forth flirtations - at one point, she even said that the pair were dating - before confirming that the duo are just friends.
During her upcoming interview on The Ellen Show, Nicki confirmed that she's currently dating two men after being single for the first time in two decades.
"There is a new boy, but he and I have kind of fell back a little bit," she said. "There's like a newer [boy] – he's been around for a couple of weeks now. But I don't have a boy."
After confirming her single status, she mentioned her "toxic" relationship with rapper Meek Mill. "I was in a relationship with Meek for a while, which ended, and it was a very toxic something. But we had good times and we ended that."
Nicki also clarified rumours that she had dated rapper Nas, saying "No! I didn't say I was with Nas. I said I chilled. I hung out with him. And he and I are still good friends."
"I've never been in a relationship with Drake," she added, after Ellen questioned her relationship with the Canadian hitmaker.
"I've been a relationship my whole life. I was in a relationship since I was 15 years old. This is the first time that I'm single, and I'm happier. I used to feel like I had to have a man, I swear. I want women out here to know you absolutely don't."