Nicki Minaj 'Confirms' Relationship With Eminem After Delaying Album Release
25 May 2018, 10:48 | Updated: 25 May 2018, 10:51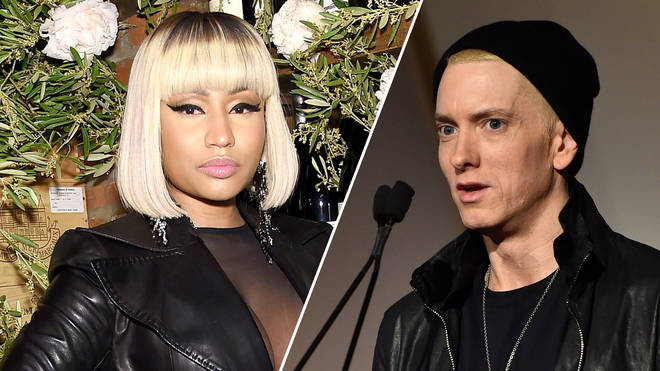 She also referenced Shady on her new song.
Nicki Minaj has ignited dating rumours after appearing to 'confirm' her relationship with Eminem.
The 'Chun-Li' rapstress took to Instagram to promote a new single she's featuring on - YG's 'Big Bank' with Big Sean and 2 Chainz - before answering one fan's burning question.
During her verse on the track, she name-drops Eminem on the line: "Told em' I met Slim Shady, bag the M / Once he go black, he'll be back again."
And after a fan asked if she was dating the 'Revival' rapper, she simply replied, "Yes."
While it's quite possible that she's trolling, or simply using the narrative to promote the new single, fans remain speculating.
Nicki's most recent relationship was rumoured to be with fellow rapper Nas. They allegedly began dating in 2017 before calling off things off earlier this year.
The announcement comes after the 'Barbie Tingz' star pushed back the release date of her upcoming fourth album, 'Queen', which is now slated to arrive on 10th August.
On why she delayed the original release date of 15th June, Nicki said: "I love my label, but I'm happy that I've always been blessed to have the freedom and the creativity to do what I want when I want how I want it."
"Trust me, it's the better choice."