Eminem's Manager Responds To Rumours About Drake Diss On New Album 'Kamikaze'
2 September 2018, 11:38 | Updated: 2 September 2018, 11:40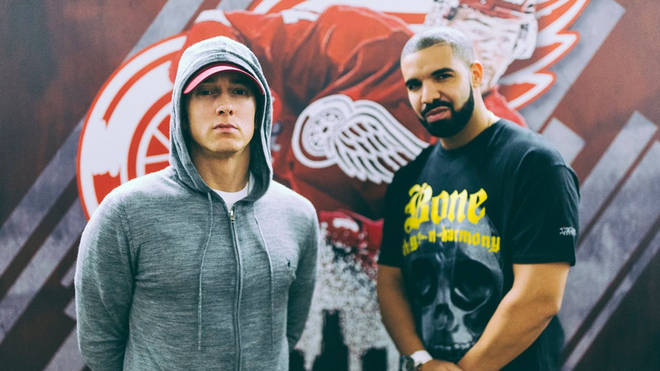 Are the pair feuding?
Eminem's manager Paul Rosenberg has responded to rumours that the rapper dissed Drake on surprise new album 'Kamikaze'.
Speculation about Eminem's potential Drake diss began circulating after fans pointed out lyrics that could have been aimed at the OVO rapper.
On a song called 'Kamikaze', Eminem raps:
"You got some views, but you're still below me
Mine are higher, so when you compare our views, you get overlooked
And I don't say the hook unless I wrote the hook
And now I'm just freestylin' in the vocal booth
And you know I've always spoke the truth
You lyin' through your teeth so much, you broke a tooth
And it ain't somethin' I need a phone to do."
Some fans have claimed that Eminem's lyrics make reference to Drake's album sales, his previous album 'Views' and suggestions that he uses ghostwriters for his songs.
There are also suggestions that Eminem threw shade at Drake on another song called 'Fall'.
On the song he raps: "The fans waited for this moment like that feature when I stole the show (ha), sorry if I took forever (haha)"
Some have claimed that Eminem is referring to his feature on Drake's single 'Forever' alongside Kanye West and Lil Wayne.
However following lots of speculation on social media, Paul Rosenburg took to Twitter to address to rumours.
"He isn't dissing Drake. Dead That," he tweeted.
Drake and Eminem were rumoured to be feuding in 2017 however at the time, the pair put an end to speculation by taking a picture together on Instagram.
Meanwhile, Eminem dissed a number of other rappers on his album 'Kamikaze', including Lil Pump, Lil Xan and Tyler, The Creator, amongst others.